What do IDDS participants want to do next? Ask the data. (Part II)
blog
Wednesday, October 19, 2016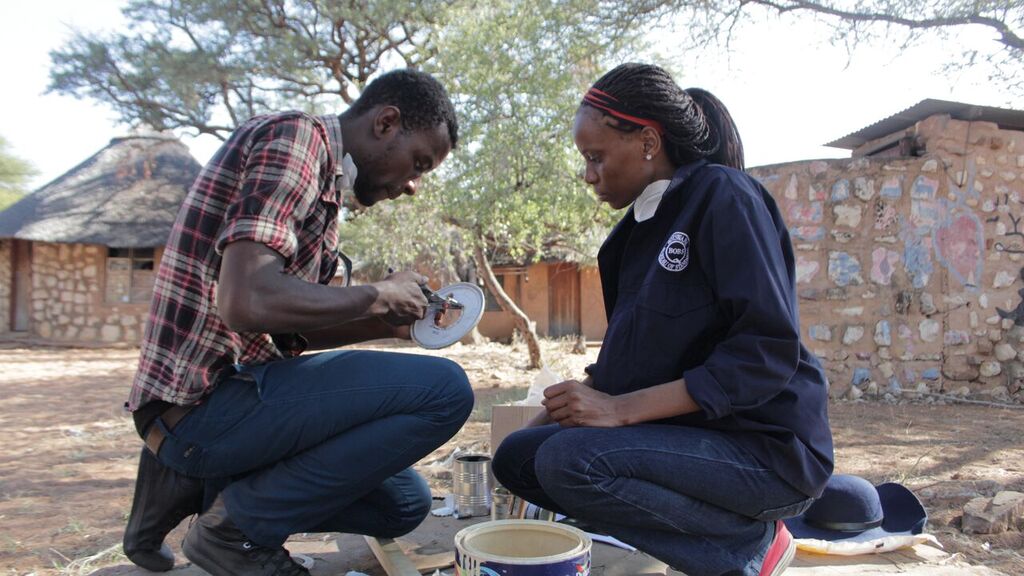 In Part I of this post, we explored what participants wanted to accomplish during their time at the International Development Design Summit. We found that the most common goals focused on learning and relationship building, and that there were slight differences by summit, gender, and place of origin.
But what about afterward? What are IDDS participants' hopes and dreams for the future?
Before each of the 2016 summits – IDDS Educación, IDDS Amazon, IDDS Botswana and IDDS Cookstoves – we asked participants this question:
"What do you most hope to accomplish in the 12 months after IDDS?"
Here's what they said.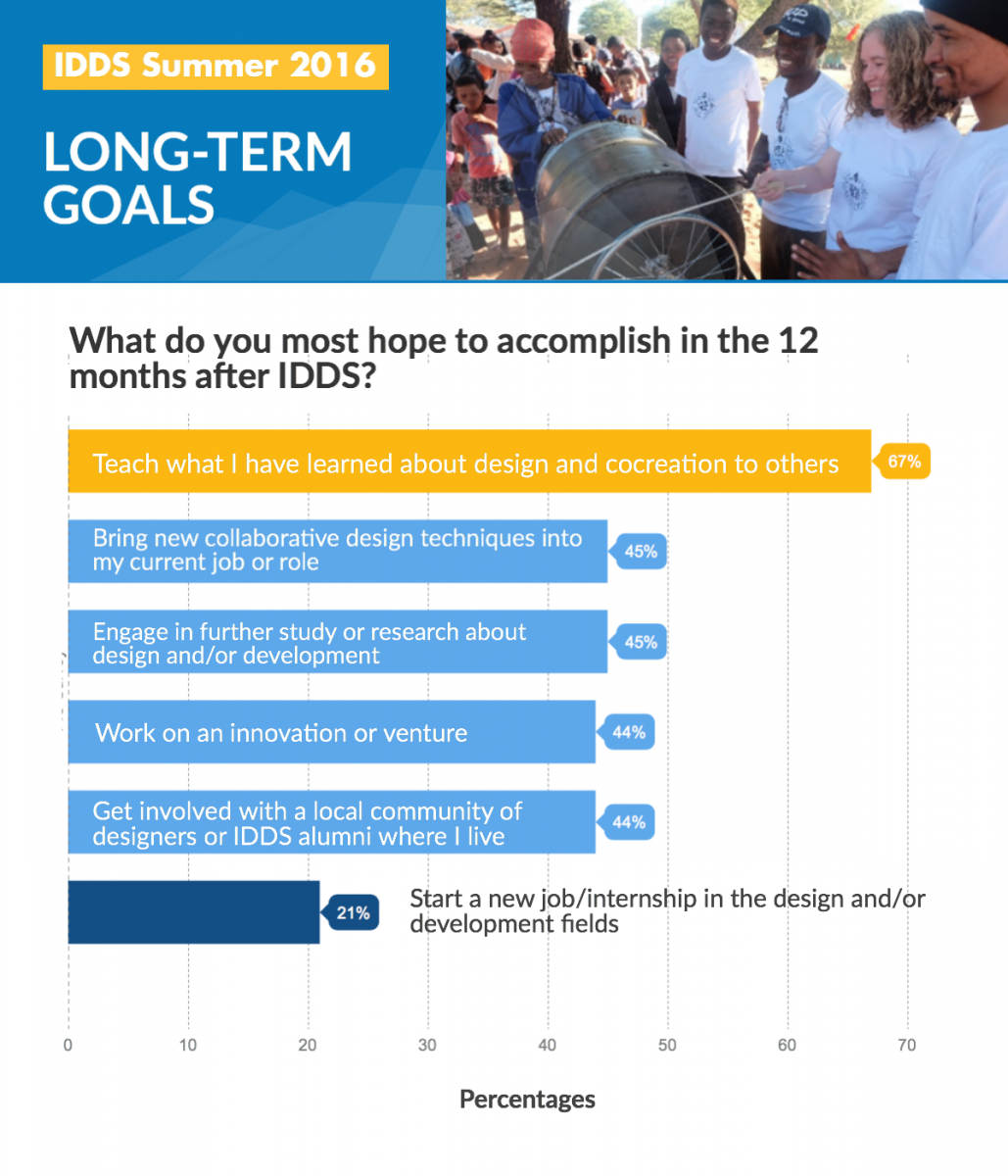 This has been one of IDIN's greatest discoveries: two-thirds of our Network members want to teach others. In a recent post, we explored many ways that Network members have taken on the challenge of teaching design and co-creation in their own communities.
The next four goals are tied for second place. By looking at different sub-groups, we can start to tease out some patterns in their priorities.
Just as with the short term goals, each summit has its own flavor and personality: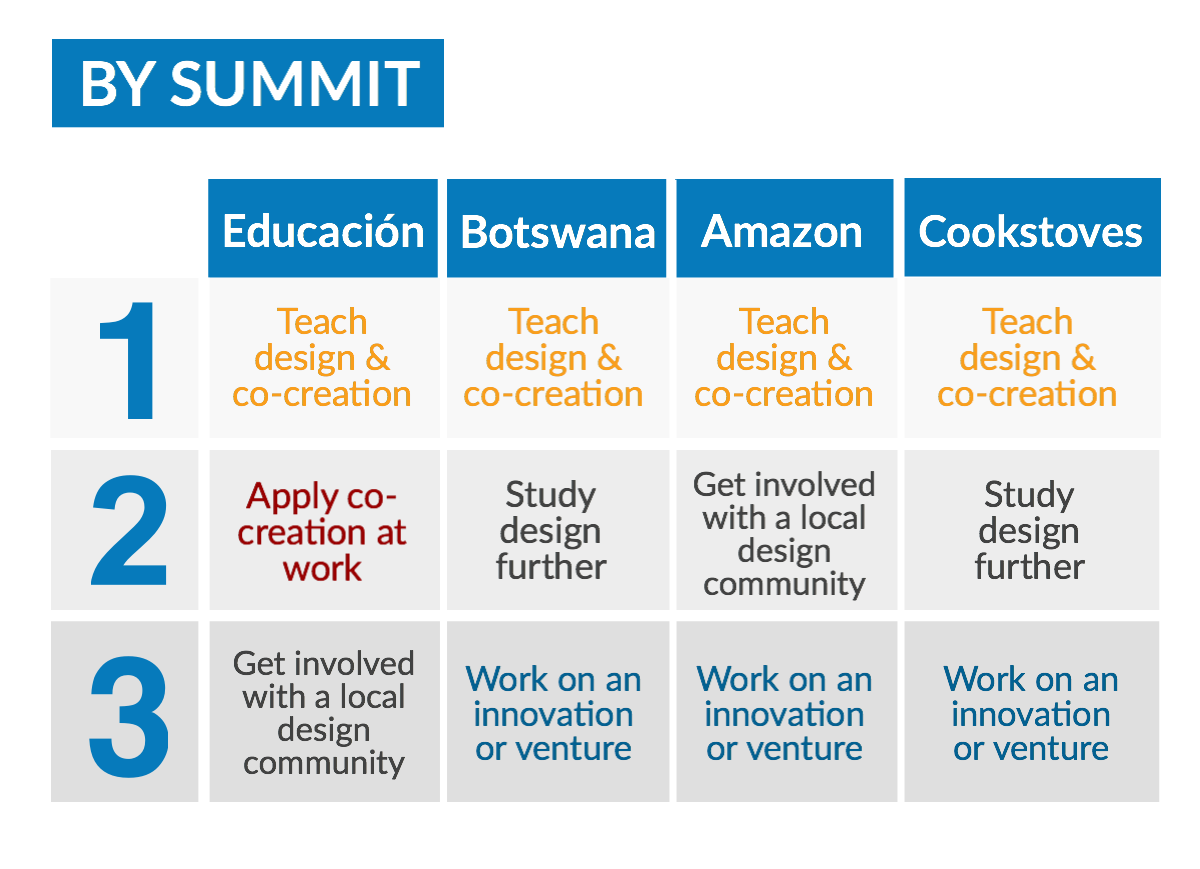 Teaching holds strong in the number one position across all summits, but we do start to see some differences in the number two and three slots.
For instance, 59% of respondents at IDDS Educación said they wanted to apply new collaborative design techniques in their work. Since many IDDS Educación participants are full-time educators, they may see clear opportunities to be "intrapreneurs" in the education system rather than "entrepreneurs" devoted to a new technology or venture. By contrast, participants at the other three summits had a stronger focus on technology development post-summit.
We were also curious whether men and women had different long-term goals: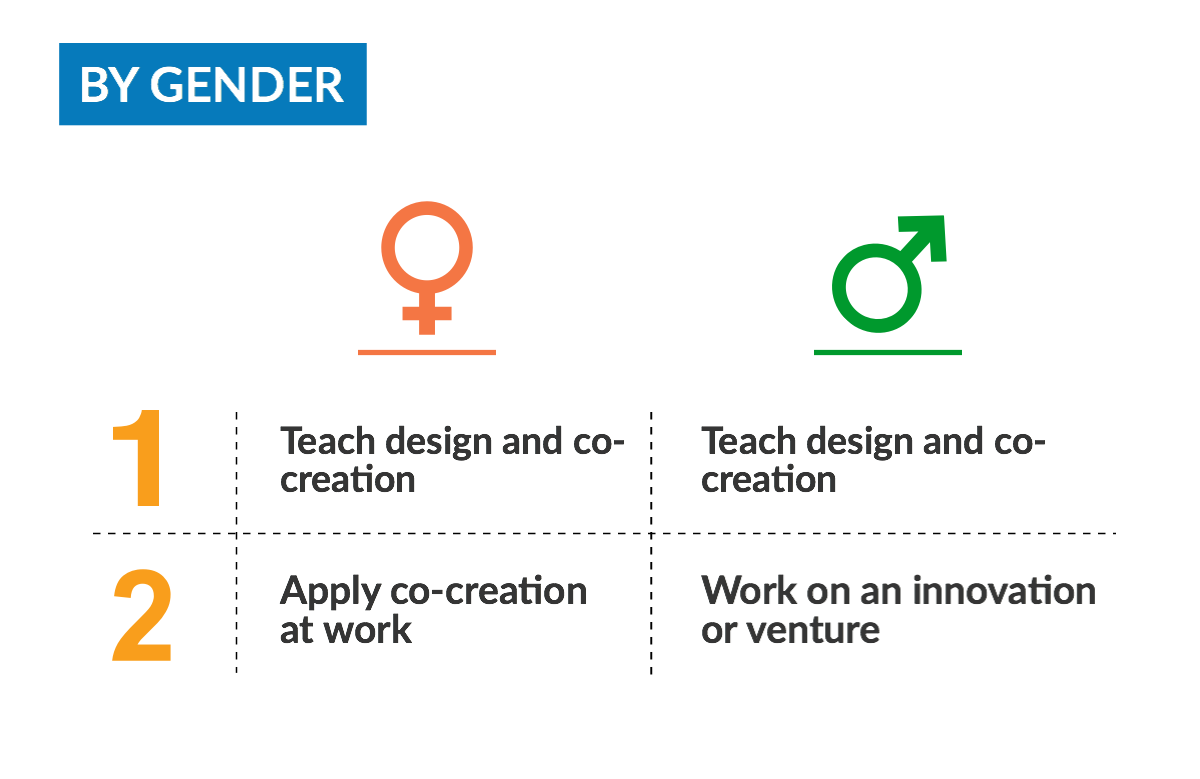 Teaching is the number one goal for both men and women, but we do see a difference in the number two spot. According to our data, 53% of women are interested in being "intrapreneurs," applying co-creation in their current roles. By contrast, 50% of men hope to work on a technology or venture.
Finally, we checked out the difference between local, national and international participants' visions for the future: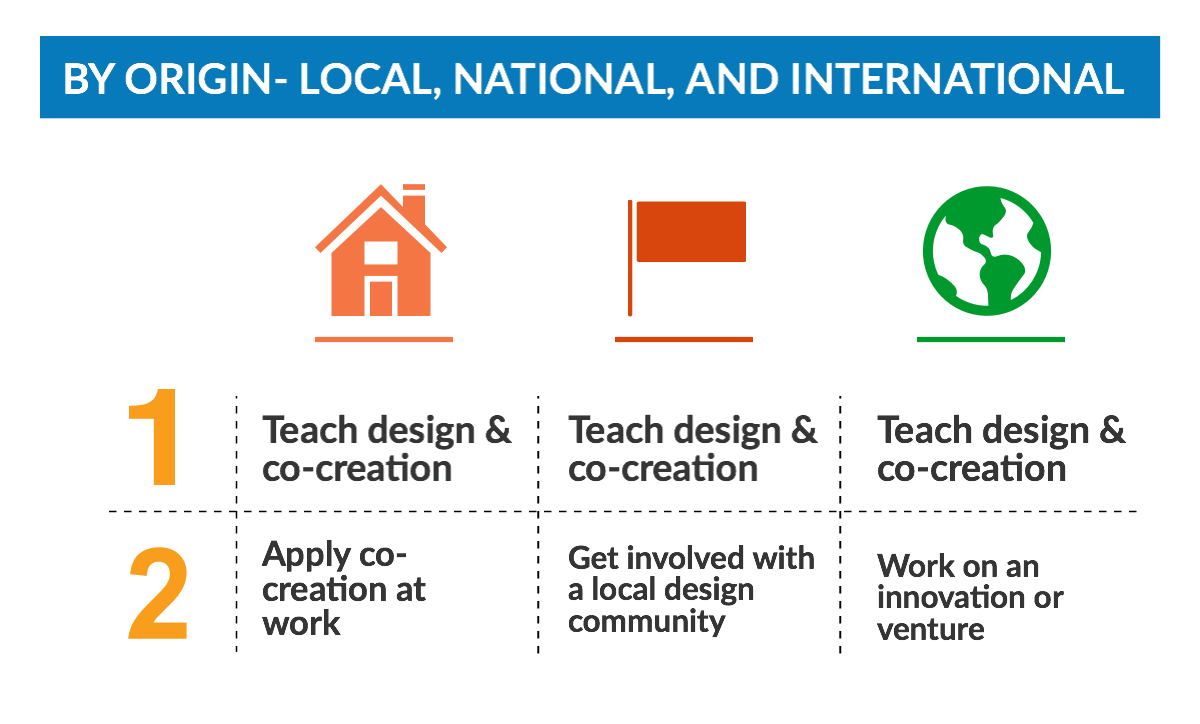 Teaching sweeps the first place spot once again, but we do see differences in the number two spot.
Right after a summit, participants from that country often launch or join an IDIN chapter. This may be why 53% of national participants plan to get involved with a local community of designers.
Here, we see the intrapreneur/entrepreneur split by geography: 44% of local participants hoped to apply co-creation in their day-to-day work, and 49% of international participants hoped to work on an innovation or venture.
One last thing…
Since we had an inkling that long-term goals might change over the course of the summit, we actually ask the same question both before and after the summit.
We found that overall, participants' long-term goals remained pretty much the same. But in a few interesting cases, we saw shifts:
At IDDS Botswana, the number one goal went from "Teach what I have learned" in the pre-survey to "Work on an innovation or venture" in the post-survey. This may be because, after four weeks of prototype development, participants began to see the future possibilities take shape. Lead organizer Thabiso Blak Mashaba also said, "In addition to that, I think they loved the market activity, which I think helped activate that thinking more."
At IDDS Amazon, the number one goal shifted from "Teach what I have learned" to "Engage in further study or research about design or development." IDDS Amazon had a strong focus on ecological design processes, and, many participants were inspired to continue exploring that methodology in the coming year.
At IDDS Cookstoves, the number one goal stayed the same, but "Get involved with a local community of designers" overtook second place. Since IDDS Cookstoves was very much a regional summit of East African cookstove experts and entrepreneurs, the connections made at the summit may have inspired a deepening of this network post-summit.
It takes a village to get good data! Many thanks to Josephine Ong for designing the infographics for this post. Also, thanks to M&E Fellows Tricia Johnson, Gayathri Ramani & Helena Tavares for collecting and crunching the data, and to David McDevitt for wrangling it together!