Meet Our 2016 International Development Design Summit Monitoring & Evaluation Fellows
news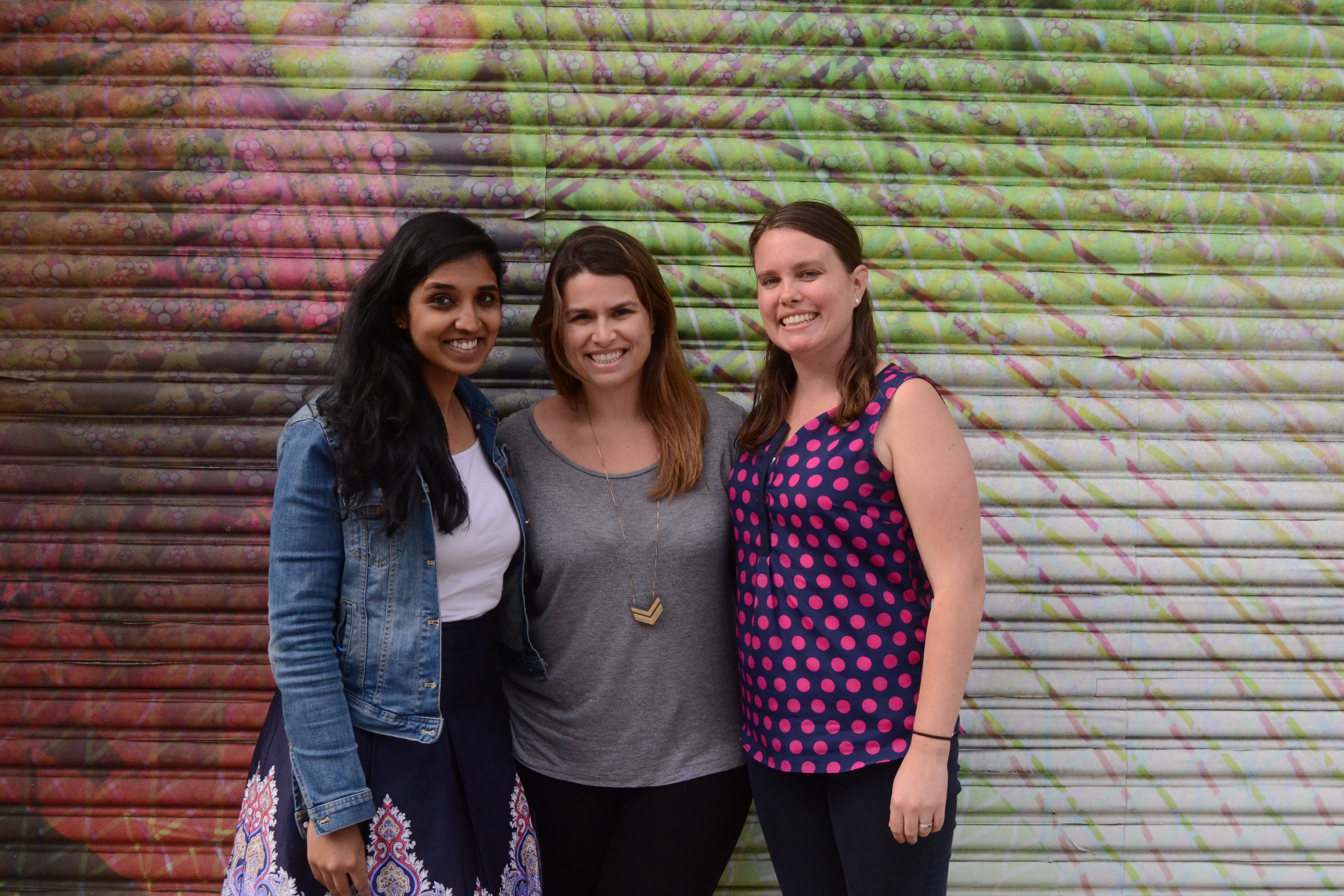 With just one week until our first International Development Design Summit of the year begins, the IDIN team is gearing up for a busy summer! This year, we're thrilled to have three Monitoring and Evaluation Fellows on board to help us track, measure, and learn from this year's design summits.
Recently, we chatted with those fellows—Tricia Johnson, Helena Villela Tavares, and Gayathri Ramani—to learn more about their role at the summits as well as what they would build if they had infinite resources and skills.
We're so excited to have you on board! Tell us a bit about yourself: where are you from and which summit will you be attending?
Tricia: I'm a Masters of Public Administration in Development Practice student at Columbia University's School of International and Public Affairs. I'm from San Jose, California. I will be at IDDS Educacion in Colombia, IDDS Cookstoves in Uganda, and also spending a bit of time at the (IDIN-supported innovation center), the Tet Centre.
Helena: I'm also a Masters of Public Administration in Development Practice student at Columbia University's School of International and Public Affairs, and I'm from Ribeirao Preto, Brazil. I will be attending IDDS Amazon, and spending some time at the (IDIN-supported) Vila Nova Esperanca innovation center. 
Gayathri: I'm at the Tufts University Fletcher School of Law and Diplomacy where I'm a Master of Art in Law and Diplomacy student. I'm from Nairobi, Kenya. I'll be attending IDDS Botswana.
What are you most interested to learn, explore, or discover about IDDS in the monitoring and evaluation process?
Tricia: I'm interested in seeing how you go about using a monitoring and evaluation system that captures this entire experience that's so process-focused. How do you take a process like co-creation and turn that into concrete numbers and data? 
Helena: I'm very interested in getting to know the participants and to see their lens into the design summit. I'm interested in learning more about their backgrounds, and the projects they want to work on.
Gayathri: I'm particularly interested in experiencing co-creation and how you can effectively and fairly engage community partners. Actually being there, at the summit in Botswana, will give me a better sense of what co-creation looks like. In development, we tend to throw out terms like co-creation, community building, so I'm really interested to understand those terms and see them play out in person. 
On a personal level, what part of IDDS are you most excited about?
Tricia: I'm really excited to go to new places. All of my experience is in Latin America, but I've never been to Colombia. Traveling to Uganda will also be my first time in Africa, so I'm looking forward to that. 
Helena: For me, being in the Amazon is very important. Even though I'm from Brazil, I've never been there. I'm excited to work with each of the teams. They're going to be working on permaculture projects, and one team will be working specifically on cassava, which is of interest for me. I used to go to women's cooperatives when I was little to see the use of cassava in making flour, so I'll be interested to see what that team comes up with. 
Gayathri: Two things: One, is that I come from a really quantitative-heavy, research-oriented background, so for me, to be in a space that is so creative is something I've never experienced before. It's so exciting to let your mind take you wherever you're going. I'm excited about that. And the second thing I'm really excited about is living in a tent for a month! 
If you could build anything, what would it be?
Tricia: Some mode of transportation for easily getting wherever I wanted to go whenever I wanted to get there. My personal network is so spread out, so I would want to build something that would make it easier to be with them more quickly. 
Helena: I've been involved with politics in my country for the past six years, and nowadays we have a coup d'etat. I want to know what people are thinking without reading the news because the news is so committed to the elite groups in Brazil. We don't have clear access to information, so I would build an app or something SMS-based to take the political temperature in the streets. 
Gayathri: Gender issues are really close to my heart. I was recently really inspired by this guy that was making local, sustainable sanitary napkins in Tamil Nadu, India. I would love to design a product for young women that meets their needs for menstrual hygiene, taking into account cultural sensitivities.