Meet the IDIN Interns Working at the U.S. Global Development Lab This Summer
news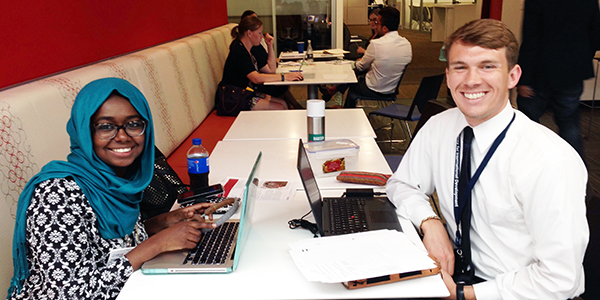 This summer, two IDIN-affiliated students were chosen to complete internships at the U.S. Global Development Lab. Recently, we sat down with MIT undergraduate student Amna Magzoub (left) and Babson College graduate David Hines (right) to learn more about their new internships and what they're hoping to learn this summer working at USAID. 
Congratulations on the new internship! Can you tell us a bit about yourself?
David: I am a recent graduate of Babson College. I concentrated in Technology, Entrepreneurship, & Design. I grew up in San Diego, California. I participated in IDDS Tanzania 2014. My team worked on livestock fodder production and storage in a Maasai village outside of Arusha. Building on my experience last summer, I am currently interning at USAID in Washington, DC.
Amna: I'm currently a rising senior at MIT. I was born and grew up in the States for the first few years of my life and my family moved back when I was eight and haven't been back until I started college. After a lot of exploring and soul-searching, I haven finally settled to pursue a Mechanical Engineering degree at MIT with a minor in Biology.
How did you first get involved with IDIN and MIT D-Lab? 
David: I participated in IDDS Tanzania in 2014. Following the summit, I wrote my honors thesis in collaboration with IDIN using IDDS teams as fodder for my research. The thesis was titled, "The role of goal clarity in user-centered new product development teams."
Amna: I first heard about D-Lab when my friend, a senior who graduated, told us about all her cool projects that she was working on and how she highly, highly recommended I take a D-Lab class before I graduate. I took D-Lab: Development my Junior fall and hit it off pretty well with the D-Lab students and staff and even had a chance to participate in TechCon representing IDIN! I continued my D-Lab career with a second class my Junior spring, D-Lab: Design. And thankfully, these experiences have introduced me to the most amazing, dedicated and inspiring people I have ever met.
What was exciting to you about the prospect of a USAID/Global Development Lab internship? 
David: Since developing a love for languages and travel, I always dreamed of working in an international development agency. To have the opportunity to intern at USAID this summer is a dream come true. The most compelling part about working at USAID's Global Development Lab is experiencing first-hand new models for international development such as open innovation competitions and milestone-based funding. Another exciting aspect of the internship is bringing back knowledge from my internship to IDIN.
Amna: I'm excited to be working and networking with such qualified individuals in the Lab whom are all passionate about what they're doing. So far it's been nothing but laughs and giggles paired with serious work. They're all fun to work with and I'm looking forward to see how much I will accomplish during my time here.
What part of USAID will you be working in? What are some of your primary projects?
David: I am working in the Lab's Center for Development Innovation on the Collective Acceleration Team. My team is responsible for taking innovators in the USAID pipeline from programs such as Development Innovation Ventures and Grand Challenges for Development. I am responsible for developing tools to be used by innovators such as an innovator needs assessment survey, pitch deck templates & prep guide, business modeling tool, and human-centered design tool.
Amna: I'm working with the Higher Education Solutions Network team in the Center for Development Innovation (Lab/DI). I will be working on evaluation and improving DevResults, the Lab's new monitoring and evaluation platform and the Global Innovation Exchange, the Lab's new platform that will connect innovators worldwide to work and collaborate on innovative solutions to their problems.
How do you think this internship will contribute to your future career goals? 
David: These few weeks interning at USAID have already allowed me to meet such a wide range of individuals from international affairs agencies and implementing contractors. I am certain that the people I am meeting now will connect me to future employment opportunities.
Amna: D-Lab introduced me to the idea of innovation for development and the impact that technology and innovative ideas can have on the thinking and mindset of any individual. That's why I switched majors and began to pursue a Mechanical Engineering degree. USAID's Higher Education Solutions Network team is full of individuals with similar stories who have been trained as engineers and now work as government officials.
"Innovation" is central to IDIN's mission as well as that of the U.S. Global Development Lab. How do you define innovation? 
David: Innovation means identifying, developing, and testing a new way to solve a problem. 
Amna: Innovation is the creation of ideas, products or technologies to solve problems through a method that hasn't existed before. It is a step beyond invention as innovation implies the idea/product/technology has an impact beyond the innovator, but on the surrounding community as well.
What's your favorite thing about Washington, DC so far? 
David: My favorite thing about DC so far is the helpful and welcoming spirit of those who work here. I have experienced nothing but friendly, welcoming, individuals who go out of their way to connect me to friends and contacts who I might benefit from meeting.
Amna: I love the culture! And the people! And the sights and monuments! It was a tad overwhelming at first, but once I did a bit of exploring I am definitely loving the vibe.