IDIN Network Members in India, Uganda Awarded DIV Grants by USAID
news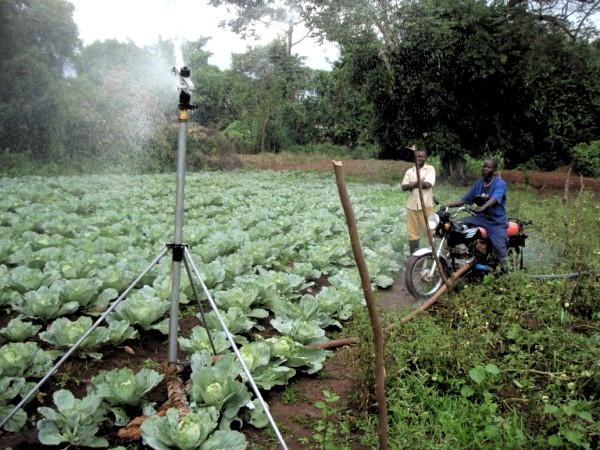 This week, the Development Innovation Ventures program, or DIV, at USAID's U.S global Development Lab, announced $14.1 million in new grants to 32 organizations and individuals around the world, including two IDIN Network members
DIV is a year-round open competition that seeks breakthrough development solutions with the potential to change millions of lives. The program awarded Stage 1 grants to IDIN Network member Abraham Salomon, founder of Agriworks Uganda, as well as IDIN Network member and MIT D-Lab alumna Jackie Stenson and MIT D-Lab alumna Diane Jue, co-founders of Essmart Global in India.
Abraham and his venture, Agriworks Uganda, seek to provide innovative irrigation products and solutions to small-scale farmers. The DIV grant will help Agriworks develop a scalable distribution model by refining an asset-leasing product that is cost-effective and low-risk.
"We're looking at how we can combine as many operations as possible, including promotion, product demonstrations, trainings, loan applications, loan applicant screening, and loan recovery. We think we can lower the cost of sales and loan approval by doing a lot of these things in-house," Abraham explains. "To track impact, we'll look at changes in farmers' production and incomes between farmers who either got a lease or did not, but were otherwise similar in their loan applications. We'll also try to identify what characteristics result in high loan acceptance, to target our customers better." 
Essmart Global creates transparent, competitive, and economically incentivized marketplaces to sell life-improving, essential technologies in India.
"We're using our DIV grant to run controlled experiments on our shop network for various marketing interventions, to determine their effectiveness on end user adoption of socially impactful products," Jackie says. "For example, we have six different interventions that we'll be testing out, and we'll monitor the increase in sales and uptake when we use this intervention on a specific group of shops in our network as compared to a control group of shops."
You can read more about DIV's latest round of grantees and learn more about how to apply.