Final Prototypes Take Shape as the 2014 International Development Design Summit Draws to a Close
news
Wednesday, August 13, 2014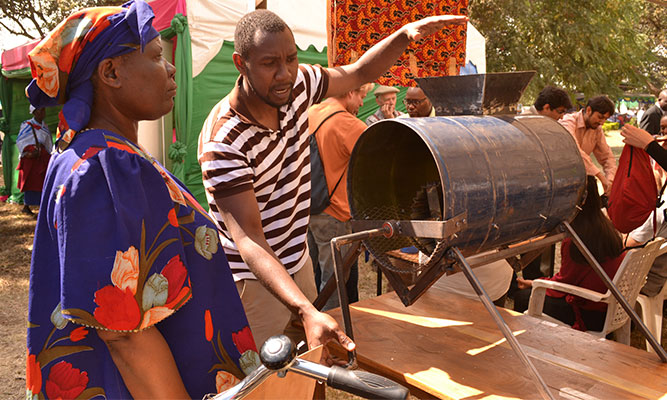 Sparks fly, saws whirr, and eight different prototypes take shape as the International Development Design Summit (IDDS) draws to a close in Arusha, Tanzania.
This month, nearly 50 designers, inventors, and innovators from Tanzania, Kenya, Ghana, Cambodia, India, Pakistan, Germany, Brazil, the United States, and other countries came together to create low-cost, practical technologies with the potential to alleviate poverty. From avocado oil presses and bicycle-powered coffee shellers to anemia testing applications and rainwater harvesting systems, their prototypes spanned a wide-range of practical technologies.
The summit is organized by IDIN, a five-year program headquartered at MIT D-Lab, which supports a diverse network of innovators to design, develop, and disseminate technologies just like those built in and around Arusha this month. 
Upon arriving in Arusha, the participants were organized into eight small teams. Two teams were assigned to each of four communities outside of Arusha—Mbulumbulu, Leguruki, Orkolili, and Makanya—and each team was assigned a unique problem identified by community members. At least one member of each community also participated as a summit participant. Some community-identified problems were related to agriculture or health, while others concerned access to clean, safe water or advancing practical, hands-on education.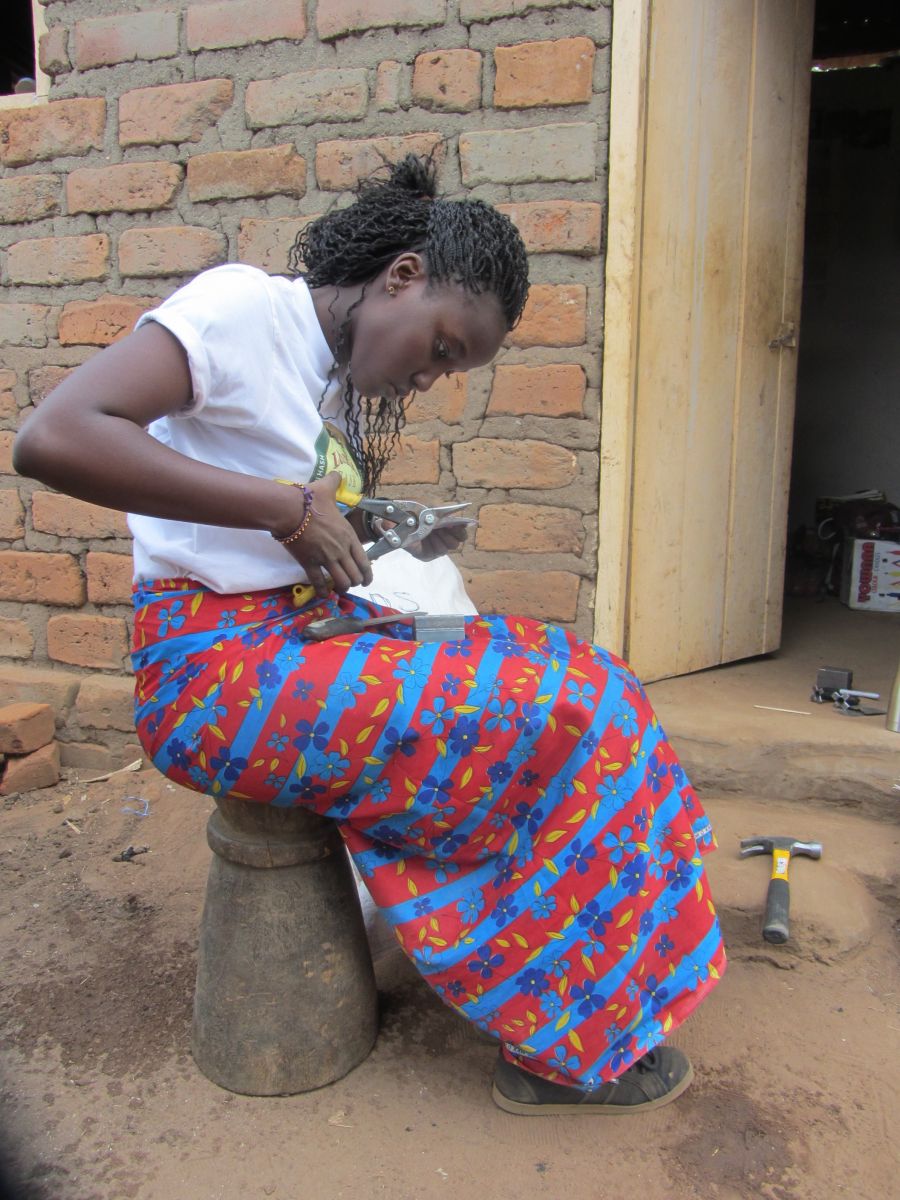 IDIN Network members developed and delivered the summit curriculum, teaching participants about design thinking, problem framing, collecting and analyzing user feedback, and hands-on prototype design. Participants also learned about co-creation, the idea that innovation in design is most effective when community members and designers work closely together to develop a technology that best meets the community's needs.
Each team made two visits to its assigned community: one visit for learning more about their community's self-identified problem and another to share an initial prototype addressing that problem and to collect user feedback. 
At this year's summit, the prototypes developed include a bean threshing and separation machine, an avocado oil press, a bicycle-powered coffee bean sheller, a small-scale manure spreader to improve soil fertility, a water harvesting system, a method for teaching innovation and design in secondary school, and a low-cost device to test for anemia in pregnant women. All prototypes were intentionally built to be low-cost and composed of locally available materials.
As the summit comes to a close, each team iterates its prototype based on valuable user feedback gleaned in the communities in preparation for a project showcase at Nane Nane, a Tanzanian agricultural festival that takes place annually on August 8th. 
After the summit, participants become a part of IDIN's growing network of more than 350 innovators worldwide. IDIN supports these innovators in countless ways through grants, educational and training opportunities, technical support, local chapters, innovation centers, and a mentorship program. 
International Development Design Summit 2014 Projects by Community
Mbulumbulu
Bean Threshing
In Mbulumbulu, where beans are a major crop, hand threshing and separation is labor-intensive and time consuming. IDDS participants have built a threshing and separation machine that can be operated by one or two people that will reduce processing time and costs, while improving ergonomics for small-scale farmers.
Improving Soil Fertility
Fertilizer is expensive and hard to come by for farmers in Mbulumbulu, where limited land for grazing means smaller herds and less manure for maintaining soil fertility. IDDS participants have developed a small-scale manure spreader to maximize the positive impact of manure application on local soil fertility.
Leguruki
Avocado Processing
In Leguruki, avocados are plentiful, but have very little value. The only perceived use of the crop is for consumption, so nearly half of avocados go to waste. IDDS participants have developed three unique avocado oil presses to introduce value-added avocado processing to the community. Community members may produce avocado oil for personal cooking use or for sale to cosmetics companies for use in shampoos and other products. 
Coffee Processing
In Leguruki, coffee shelling is a labor-intensive process for small-scale farmers. The shelling process affects all subsequent stages of the coffee processing and therefore, is one of the most important stages. IDDS participants have converted an existing hand-powered coffee shelling machine into a bicycle-powered machine to increase productivity and decrease processing time for busy farmers.
Orkolili
Livestock Fodder Production
In recent years, urbanization has made it difficult for traditionally-nomadic Maasai tribes living in Orkolili to find open grazing lands for their livestock. As the Maasai look to new ways to feed their livestock, processing and conservation of feed has been a major challenge. IDDS participants have developed a small-scale bailer to process livestock fodder for preservation throughout the year.
Innovation Education
Most students in Orkolili don't finish secondary school, and those who do are taught using theoretical curriculum and enter the workforce lacking the necessary skills to generate a viable income for themselves and their families. To address the community's need for hands-on, practical education for secondary school students, IDDS participants introduced a new way to teach the design process using a winnowing sunflower thresher technology as a prototype example.
Makanya
Information and Communication Technologies for Health
Anemia is common in pregnant mothers living in communities like Makanya. If left undiagnosed and untreated, it can cause severe illness and even maternal and infant death. This risk is heightened by the prevalence of Malaria in the region. Makanya has no means of diagnosing Anemia, so IDDS participants set out to build a low-cost hemoglobin testing mobile application to diagnose anemia early, enable treatment, and thereby lower the risk of maternal and infant death.
Water
During Tanzania's dry season, water is hard to come by in Makanya, where most water comes from the forest and underground. The pipeline that brings water from the forest to the storage tanks in the village leaks and lacks proper control at the water distribution points. Meanwhile, the underground water source does not meet the demand at the village in times of need. IDDS participants have developed a rainwater harvesting system to improve access to water throughout the year.