Design Summit in Pakistan Catalyzes Development of Apps, Platforms, and Systems to Address Local Development Challenges
news
Wednesday, February 17, 2016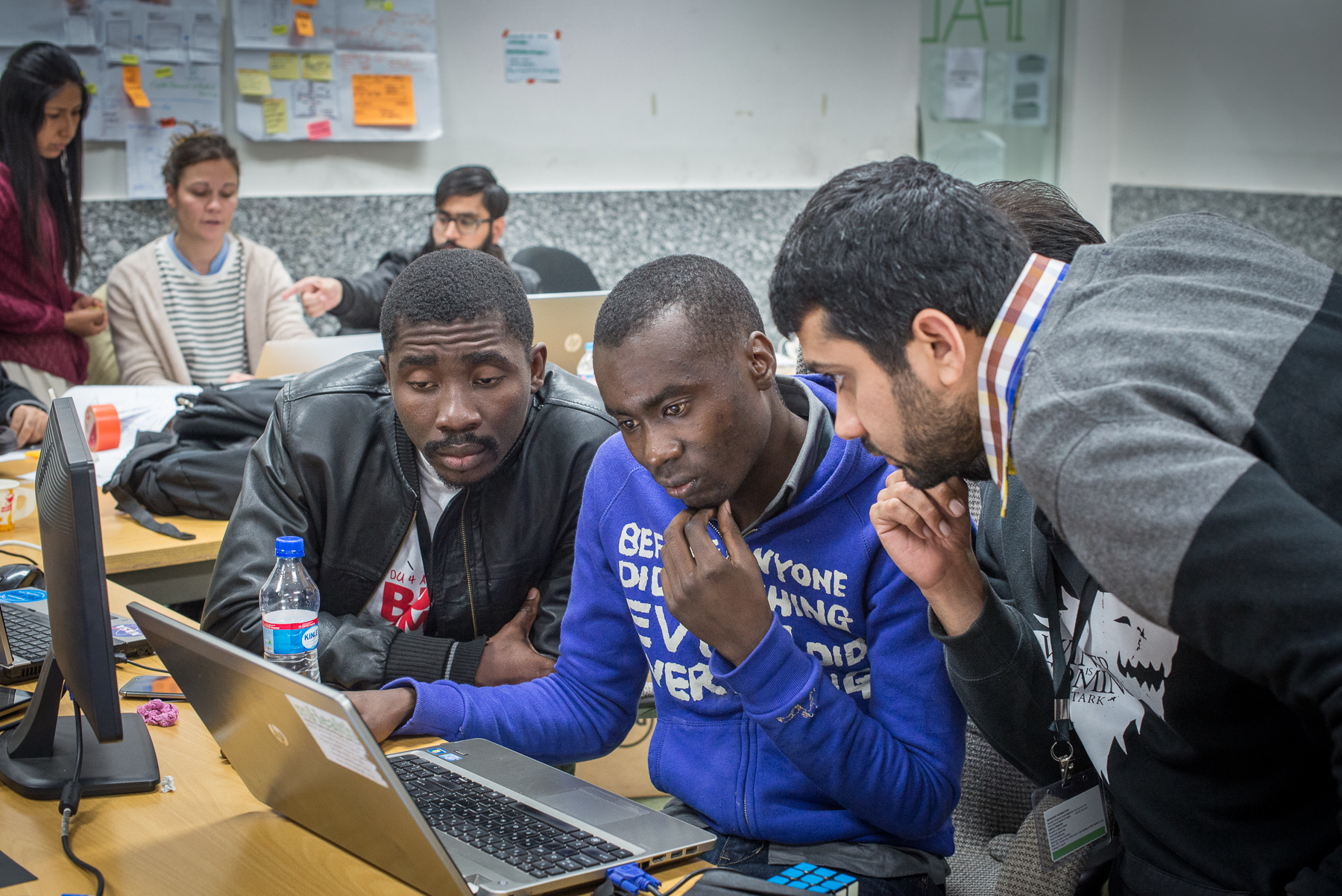 This year's International Development Design Summit in Lahore, Pakistan brought something entirely unique to the IDIN Network: a focus on information communications and technology solutions to development challenges.
IDDS Lahore was held from January 8-22 in Lahore, Pakistan in partnership with the Information Technology University, its Innovation for Poverty Alleviation Lab, and USAID Pakistan. The summit brought together participants and organizers from 15 different countries and six continents. 
Proposed solutions targeted health care workers for polio campaigns, teachers tasked with disseminating English to students, attendance communication gaps in schools and the empowerment of female livestock workers, female entrepreneurs and expectant fathers.  Below are summaries of the six projects that came out of this intense and fruitful summit.
Asan Rasta
(Nickson Nyakambi, Koffi 'Dodji' Honou, Muhammad 'Umer' Asif, Hareem Cheema, Rachel Powers)
The polio campaign process is highly inefficient, decreasing the valuable time lady health workers can spend providing essential health services to expectant mothers and families they support.
To address this issue, this team is building a USSD-based tracking system with lady health workers to identify households in need of vaccinations, plan needed visits, and record streamlined immunization data.
Not only will this increase the efficiency of campaign activities, allowing health workers more time to provide frontline primary health services, it will enable more reliable and timely data on polio immunization coverage, allowing directed efforts in the areas that need it most.
To learn more, visit asanrasta.weebly.com.
Hello Teacher
(Muhammad 'Zahid' Iqbal, Sehar Ayesha, Mugethi Gitau, Hazwan Razak, Erik Elias)
English teachers in government schools find it challenging to enable students' mastery of the subject in overcrowded classrooms, causing students to depend on private academies that some families can't afford. This team is developing an ICT system for teachers to enhance classroom engagement and help students achieve mastery of the subject without depending on academies.
Hello Teacher supports the teacher in managing classroom progress, increasing student engagement in the classroom, increasing the efficiency in marking large numbers of quiz sheets and giving feedback on individual student and group performance.
MilkeWay
(Abdullah Saqib, Jahvé Mescco Condori, Julia Klammer, Rodrigo 'Pitanga' Rodrigues da Silva, Umar Shehzad)
Distance and cultural issues make it difficult for women livestock extension workers to access suppliers, leading to frequent disruptions in livestock medicinal supplies.
This team is developing a demand aggregation system to help extension workers gain consistent, timely supplies leading to better quality animal healthcare delivery, uplifting the dairy industry and empowering women.
Rah-e-Maa
(Sacha St-Onge Ahmed, Ehsam Ullah Baig, Faran Sikandar, M. Umair Anwar, Kim Chatterjee)
Nearly 200 out of every 100,000 mothers die from birth complications each year in Pakistan. Most of these complications are preventable. Husbands and soon-to-be fathers are often the family decision makers, but have little information or knowledge about possible pregnancy complications and warning signs.
This team is creating an interactive voice response system that actively engages the father throughout the pregnancy, enabling him to assess health or danger symptoms and enact a contingency plan to access medical services in order to prepare for safe delivery.
By providing fathers improved access to doctors' advice and information (turning the father into an active partner in the health monitoring and logistical planning throughout the stages of pregnancy), we could eliminate major delays that cause preventable maternal or child death or complications.
Automatic SMS Attendance Program (ASAP)
(Nara Brandão Schenkel, Victor Nyang'a, Redon Skikuli, Hassan Bhatti, Aneeqa Ishaq)
Teachers instruct six to eight periods a day in a class of 60-80 students, along with jobs at academies in addition to their personal household responsibilities, which leaves them with minimal time for administration tasks, such as contacting individual parents when a student has been habitually absent.
This team is developing a communication platform that will easily allow teachers to contact parents about attendance issues, saving valuable time and alerting parents to attendance challenges before they become a persistent and deeper problem.
WeSMS
(Shehzil Malik, Catherine Rakama, Hermes Huang, Ali Hassan Hussaini, Simon Höher)
Women entrepreneurs in Punjab struggle with maintaining a profitable business because the market is saturated and lacks transparency. Major problems include lack of information, low technology penetration, and social boundaries. The WeSMS team is developing a low-tech ICT solution that allows for enhanced sale opportunities by providing relevant market information is our solution with an on-demand SMS service that provides contact details of selected shop owners nearby.
For more information about the summit, visit the blog at idds-lahore.com/blog or check out the #IDDSLahore2016 Twitter feed.