Young Innovators Design for Social Impact at Ghana Maker Faire
blog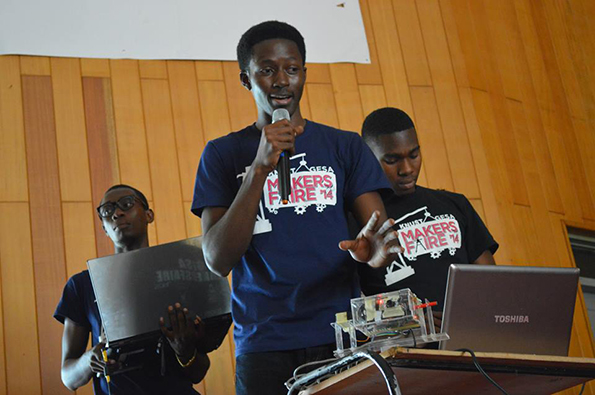 In our society, and particularly in Ghana, young people are not often given the chance to show their abilities and have their ideas taken seriously, Jorge Appiah explains.
"[T]hese youth have wonderful ideas that can really contribute to the development of society and the country," he says.
That belief was at the core of the GESA Maker Faire that Jorge helped organize this month in Kumasi, Ghana.
In its second year, the Maker Faire was a tremendous success. A month-long training, design, and development competition, the Faire was attended by dozens of dynamic university students.
The competition was organized by the Ghana Engineering Students Association (GESA) and the Creative Group at the Kwame Nkrumah University of Science and Engineering (KNUST) and supported by the Technology Consultancy Centre (TCC) of the College of Engineering at KNUST, an IDIN academic partner.
Throughout September, KNUST engineering students learned about the design process and tips on how to design for impact. They also got to know more about the business side of engineering, including the steps for bringing a prototype to market. Students took trips to the Ghana Fab Lab, Suame Magazine (an informal industrial complex outside of Kumasi), and the local Tech Hub, meeting local innovators from across Ghana and West Africa.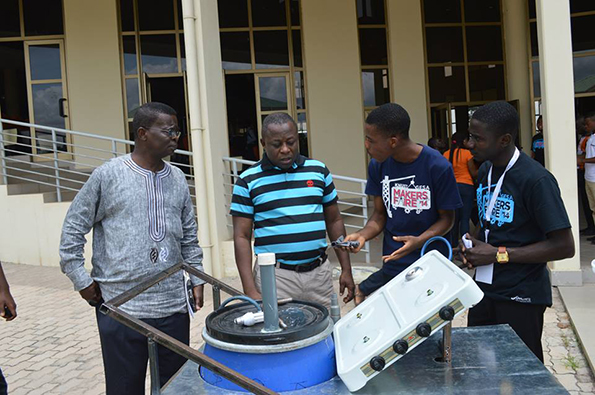 Bringing Bright Ideas to Life
The Maker Faire culminated in a competition. Judges chose seven teams from an impressive pool of applicants to bring their ideas to life. With support from IDIN, the students had the tools and materials needed to build real prototypes from their designs.
Derrick-Brown Akolbire, a KNUST mechanical engineering student and two-time participant in the Maker Faire appreciated the hands-on nature of the experience.
"It challenged me to provide innovation solutions to our everyday problems and also provided the necessary resources to bring my ideas to life," he shared. "It was awesome applying my engineering knowledge to real life scenarios."
Derrick was part of the IngineX team, which designed an intelligent fire detection and alert system called PySpy, using cameras and sensors to detect fire outbreaks before they get out of hand.
Jorge noted that household and business-related fires have been a major problem in Ghana lately, reaffirming that students' ideas and resulting technologies can have real, immediate impact for local communities.
The Maker Faire technologies and approaches varied widely in sector and purpose. One team created a biogas digester to cut down on energy costs and improve household health, while another tackled waste management through the design of a smart trash bin that automatically sorts solid waste making recycling easier and more efficient.
Looking Forward
After the Faire, organizers are working closely with teams to further the business development side of their projects by pairing student teams with the appropriate university departments and mentors.
Some teams are working with the College of Engineering, others have connected with the Center for Business Development through the TCC, and some are actively seeking funding to move their prototype into further development and eventually to market.
Jorge is hopeful that many of the projects will move forward. But more than anything, he thinks the students' experiences are the most important part of the Maker Faire.
"We have to support generating solutions through young people. That's what this Maker Faire has done, and that's something I'm very proud of," he says. "We have to see youth as a place that solutions can come from."