What if Gauze, Cotton, and String Could Keep Girls in School?
blog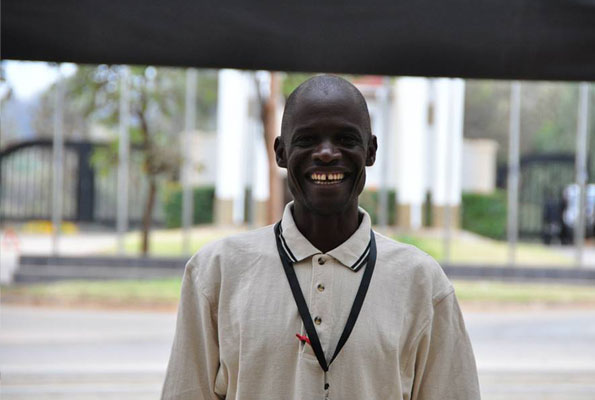 What if gauze, cotton, and string could keep girls in school? And what if those same materials, plus a bit of local ingenuity could also improve women's health and hygiene, and provide valuable income for families living in poverty?
In rural Zambia, the result would be game changing.
And that's exactly why, in July 2013, a small, dynamic team of innovators set out to design a sanitary pad.
Part of an International Development Design Summit led by IDIN, the team was one of several deployed to local Zambian communities with the mission of identifying a problem and designing a low-cost and accessible solution within a month.
Meet Martin Kasompe
Born on Zambia's independence day, Martin embodies the dynamic and energetic spirit of his country. 
He is a fish farmer from a rural village called Mansa in the northern part of the country where he lives with his family.
Martin became a participant in the 2013 summit after hearing about the opportunity through a local Peace Corps volunteer.

Martin's curiosity was piqued by the IDIN philosophy: that people living in poverty are creative, resilient, and innovative and given the right support, can be drivers of their own development.
When participants were asked to rank projects of interest at the summit, Martin chose a menstrual hygiene project as one of those he found most important. Little did he know he was signing up to be a part of that team himself. 
Martin questioned what perspective he might lend to the team. As a farmer and a man, what did he bring to the table as part of a menstrual hygiene project? 
The summit organizers reminded Martin that one of the guiding principles of IDIN is that innovation thrives in the intersections of disciplines when diverse perspectives come together. His point of view could be invaluable. 
A change of heart in Kamphelo
Martin's summit team was assigned to work with villagers in Kamphelo, a farming community in eastern Zambia where meeting day-to-day needs can be challenging.
They learned that girls and women have few options when it comes to menstrual hygiene products, a problem common in resource-poor communities.
Women and girls in Kamphelo often reuse rags and pieces of cloth during menstruation. These materials are difficult to keep clean because drying them in open areas or within public view is discouraged because discussing or even acknowledging menstruation is culturally taboo. Reusing the materials can also pose a serious health risk to those using them.
And when schoolgirls think their period might cause an embarrassing situation, many feel they have no choice but to stay home and skip school for several days at a time.
Martin had never heard these challenges being shared so openly before. The fear of the unknown was holding him back, but as a father and husband, he had to do something.

The Martin "Flying Pads"
Together with his team, Martin set to work on the prototype that would become the "Flying Pad."
Guided by IDIN design principles and community input, the team was successful in creating a safe and effective solution after several iterations of design. Their product was a disposable, comfortable pad made of locally accessible cotton stuffing and cloth: the "Flying Pad."
"Flying Pads" do not need to be washed or reused, reducing the risk of infection. They also give girls their confidence back, helping them stay in school.
After the summit, Martin and his team members took their prototype to the next level, introducing it to local women and training them on how to make the pads themselves—a valuable opportunity to work and provide income for their families. 
Back at home, Martin's wife asked what he had been working on while away at the summit. Martin held off telling her until it was her time of the month, when he brought out a Flying Pad and proudly displayed his new product.  
The Martin of yesterday has found his voice as a champion of menstrual hygiene, sharing his knowledge with anyone who will listen. He has begun playfully calling himself "Martin Flying Pad."
After some initial surprise, Martin's wife came around. She helped him organize a small group of women, including their daughter, to make and test the Flying Pads. Today, they travel to local schools, sharing information with girls about the importance of sanitation and hygiene.  
IDIN continues to work closely with Martin to support his work and goals for the product. Recently, four female engineering students from the MIT D-Lab's design class visited Zambia to collaborate with Martin on the project. Together, they revisited communities like Kamphelo to continue iteration and testing of the Flying Pad prototype. Martin has high hopes for the product's future.
Can something as simple as a menstrual pad change a life? Just ask Martin Flying Pad. It sure changed his. 
Martin is one of hundreds of incredible IDIN Network members around the world. Read more about innovators like Martin here.