Rebuilding Colombia and Its Global Image Through Community and Design
blog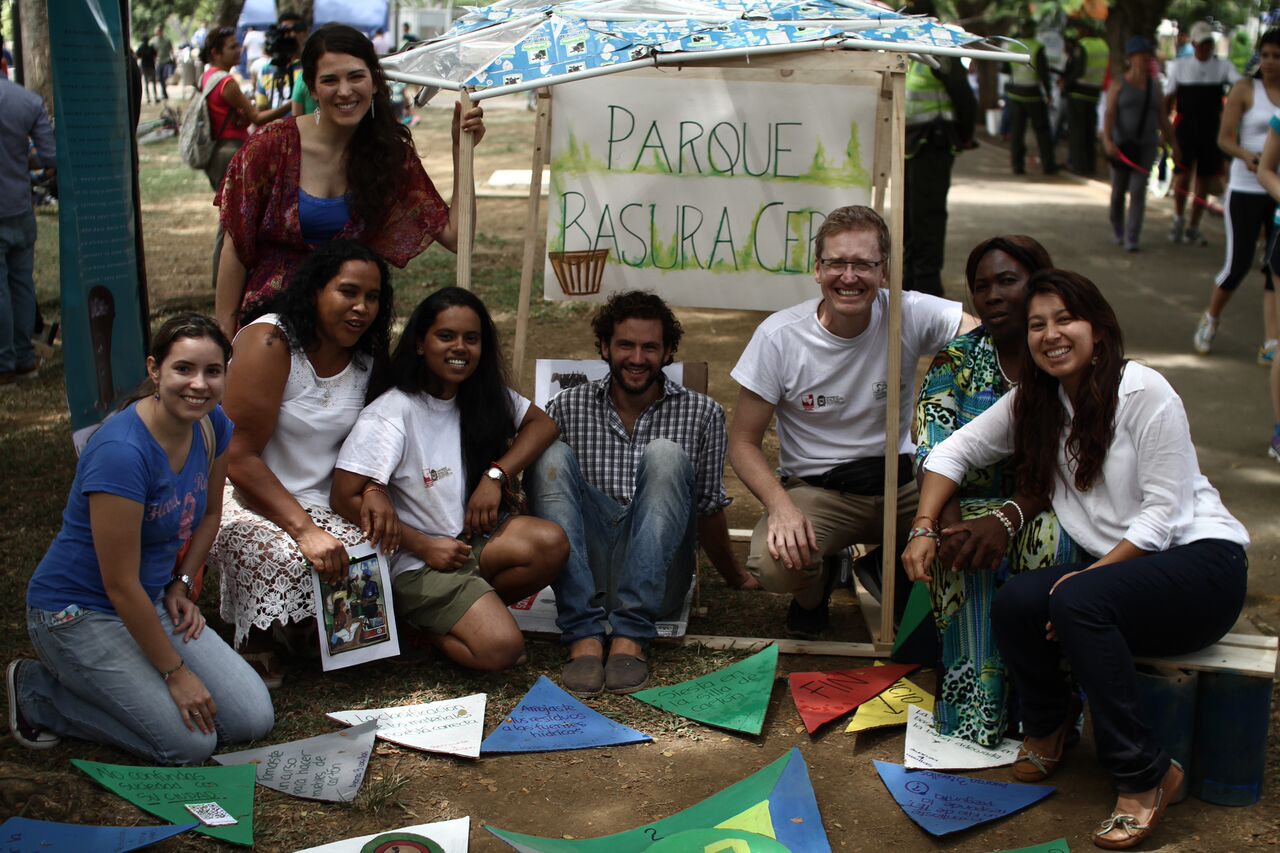 For decades, Colombia's global image has suffered; the country is often associated with war, unrest, and narcotics trade.
Back in 2014, IDIN Network member and native Colombian David Saleh told us this image was the foremost reason he was looking forward to the first-ever International Development Design Summit (IDDS) planned in Cali, Colombia. As David and many of his fellow IDIN Network members in Colombia see it, IDDS is not just a tool to empower local innovators to solve local challenges. IDDS has the potential to change people's perception of Colombia overall. 
"This is a big opportunity to show people that Colombia has many, many things to offer the world," said David, a beekeeper and entrepreneur. "The most important thing that [Colombia] has to offer is its people. The power of those people to create innovations."
Over the past two years, IDIN Network members in Colombia have organized two design summits focused on waste and education, and are now planning their third, with an eye on climate change.
IDDS Program Manager Sher Vogel conservatively estimates that volunteer summit organizers have given over 6,000 volunteer hours to organize IDDS in Colombia in the past two years, and will likely give many more as they plan 2017's event, IDDS Climate Change Adaptation, which takes place from June 30 through July 17 in Bogotá, Colombia.
"What's critical is that they are not just about enabling projects, but enabling people," Sher explains. "This group of IDIN Network members is connecting Colombians with the world. They're about redefining education in Colombia. They want to make it more hands-on and less rote, and simultaneously rebranding Colombia. They want to show that there's more to Colombia than you see in the news. That it's a creative and vibrant place building a bridge to the world."
Building Community Through Design
The summits also play a critical role in connecting Colombians from different walks of life with one another. Colombian and chemical engineer Johana Sanabria recalls learning from local wastepickers as one of the most transformative parts of her participation in IDDS Zero Waste, a summit that entirely changed her career trajectory.
"I had built a career in industrial wastewater treatment. I was learning a lot and in the field, but I felt like there was something missing. It was not meaningful. Then I applied to attend IDDS Zero Waste as a translator," Johana explains. "Over time, it was impossible to just translate. I really became part of the team."
"Originally, we were assigned to do a project related to creating low-cost furniture from recycled materials, but over time in talking to the wastepickers, we changed completed and developed the concept of a Zero Waste Park."
Johana and her team learned that local wastepickers spend countless hours walking the streets of cities like Cali and Bogotá, sorting waste in odd places reinforcing society's rejection for their role and transporting waste often in direct sunlight and without a dignified place to take breaks, eat, and gather.
"The waste pickers want to work together, socialize while they work and have a community," Johana explains. "The idea for the park was to create an aesthetic space with tables and adequate spaces for sorting, but also an area for them to rest.
"We also explored the idea of the park being a place the public could learn about the value of recycling and the important role that wastepickers play in the city. People don't see the value of waste or recycling, and we would like to change this perception. When you have this perception that you don't want to touch waste, you put that image really close to wastepickers themselves, and that forges a divide in the community."
Colombia does not offer many jobs for people without proper education and the wastepickers have created their own job opportunities. They are keen to learn and proud of their knowledge in terms of recycling. This observation was taken into account in the park's concept to offer training and workshops to help wastepickers increase their income by learning other type of skills.
Today, interns at C-Innova are integrating the concept developed at the summit by Johana and her team into local projects, exploring opportunities to install the first-ever "Zero Waste Park" in an existing park, Las Flores, in the center of the city.
A Year-Round Home for Colombian Innovation
After IDDS Zero Waste, Johana joined Alex Freese, former D-Lab: Education Instructor Pedro Reynolds-Cuellar, and other local IDIN Network members and together opened C-Innova, an IDIN-supported innovation center for appropriate technologies and community design education, as a way to support year-round activity when design summits are not taking place.  
As the center's Co-Founder Pedro Reynolds-Cuellar describes it, "C-Innova seeks to leverage creativity and promote equality through development in economically-underdeveloped communities."
Over the past few years, Johana, Alex, Pedro, and other local IDIN members have built C-Innova from the ground up, developing their design curriculum and setting up their space as well as working out the important, but seldom thought of details like registering a business and setting up accounting systems.
C-Innova staff has worked closely with their partners at the Universidad Nacional de Colombia, delivering design for development curriculum to university students, some who have never been exposed to this kind of approach before.
"In many of our workshops, it's the first time for a student to think that way," Johana explains. "That we can create something that we think is useful, but if it's not affordable to someone else, then it's not actually useful."
C-Innova has also engaged the general community and more vulnerable groups, offering open design workshops and also bringing Creative Capacity Building trainings out to rural areas of Colombia. In one training, C-Innova worked with single mothers, some of them displaced from their homelands due to the Colombia's internal war or the lack of opportunities. They were working to start their own businesses at home and through two workshops many of the obstacles were addressed.
"For me, it was an excellent experience," Johana recalls. "They were so excited every single day to learn something new, and so surprised at the many things they could learn and immediately apply to a project. We want to do more of those kinds of trainings. Trainings where we can make an immediate impact on someone's confidence in their abilities to do."
As Johana thinks about her future, it's inseparable from and intertwined with the future of her country. Currently, Johana is working on a degree in environmental management at the University of San Francisco in the United States, but plans to return to Colombia in the near future.
"A lot of displaced people are coming back to their homelands in Colombia, and the government is trying to help this transition, however an assessment of the ecosystems and the natural resources available in those regions is key to warranty a sustainable development for the community resettling so they can develop economic activities according to their region's characteristics and thus can overcome poverty," she says. "Working to open C-Innova helped me find my passion for working with the community. Now, I want to use my degree and experience to help communities develop sustainably and to acknowledge the value of water resources in their regions and advocate for them. I want to work with communities to help them leverage the resources they have, and build solutions with them, side-by-side."