Innovation Ecosystem Spotlights: Guatemala, Kenya and Pakistan
blog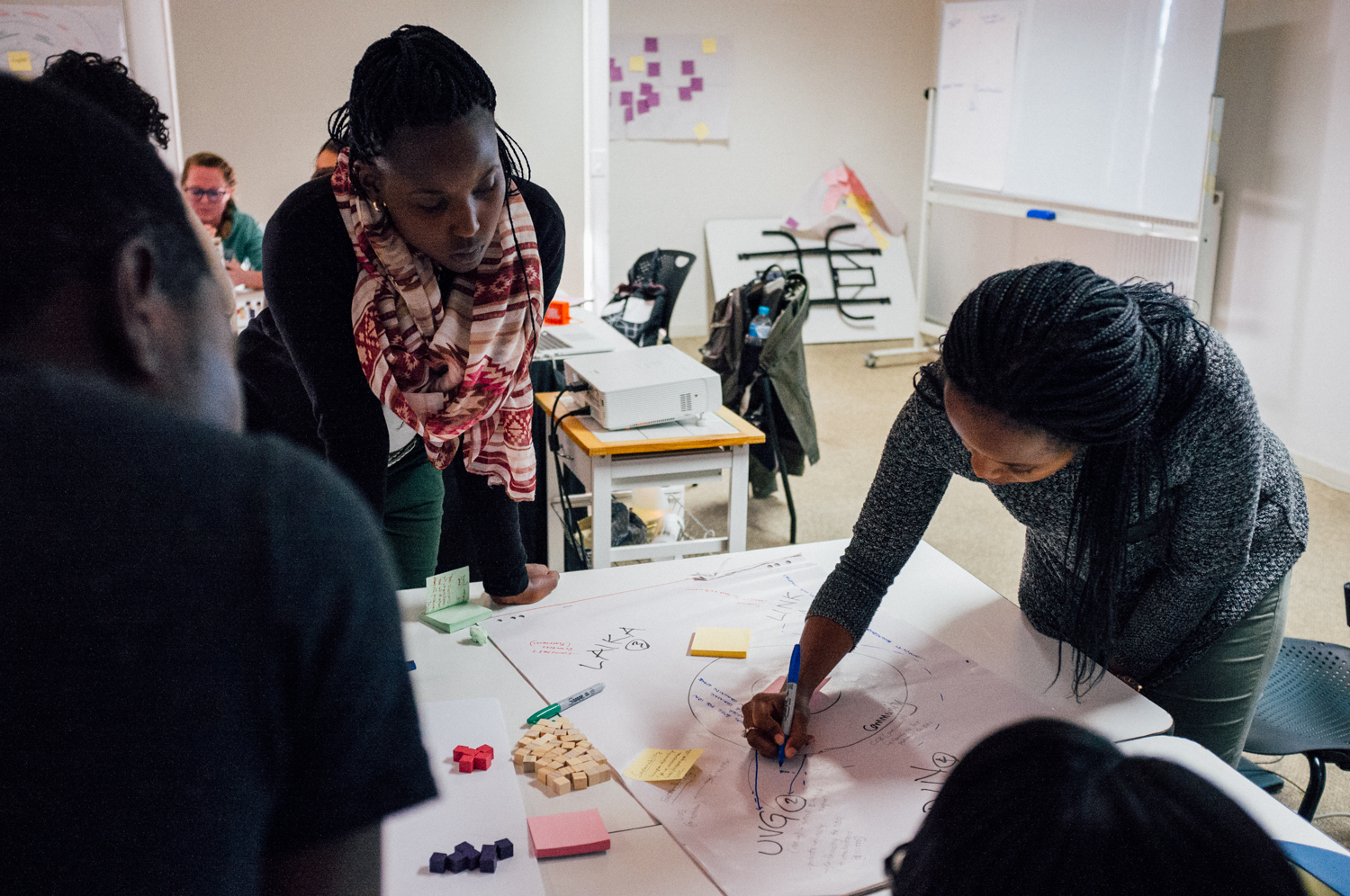 Now that we've laid the groundwork, a few introductions are in order.
Meet Team Guatemala, Team Kenya, and Team Pakistan, the Australia Awards Fellows championing local innovation for development. During two intensive weeks in Melbourne, each team shared their work in a spotlight session, mapped out their local innovation ecosystem, and asked the larger group to workshop some challenges. Here are the highlights:
Spotlight: Guatemala
Omar Crespo and Oscar Quan are the founders of Link 4, a social enterprise focused on design education and co-creation with local communities. The two are also lecturers at Universidad del Valle Guatemala (UVG), where they launched a course on social innovation and design. María José Saenz is a designer who works as a liaison between companies and women artisans. Paul Crespo is a water engineer and photographer. Mariela Paredes is an educator working to integrate design into Guatemalan primary schools. They have collaborated on community design trainings in the Lake Atitlán region, and all five are knee-deep in preparation for IDDS Hogares Sostenibles, IDIN's first design summit in Central America. You can read more about the team's work here.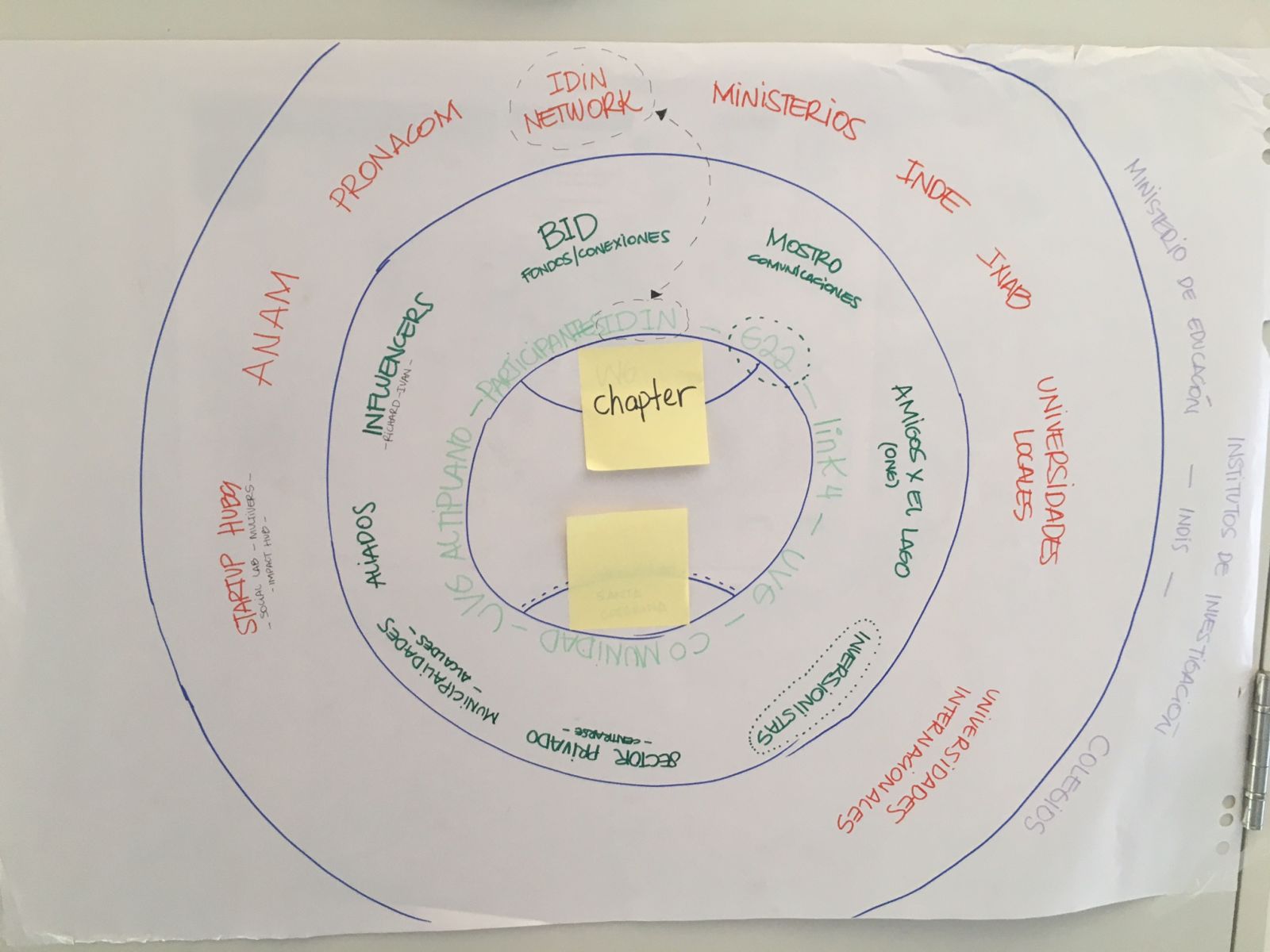 In their ecosystem map, the upcoming IDDS is smack in the middle. The innermost circle features the organizations partnering for IDDS Hogares Sostenibles: Link4, UVG, IDIN, summit participants, and the community of Santa Catalina. The next level out contains organizations supporting the summit: funders, marketers, and municipalities. The outermost circle had indirect and potential supporters, including government agencies who they hope will adopt local innovation as a national priority.
Team Guatemala came to the workshop with a few questions: What role should the IDIN Guatemala chapter play in this ecosystem? How will that role evolve after the summit? How can the chapter become sustainable? The group brainstormed configurations, mapping how each actor might create value for the other.
Spotlight: Kenya
Straight from the "Silicon Savannah" comes a cadre of social entrepreneurs. Roy Ombatti founded African-Born 3D Printing, a social enterprise that builds 3D printers from e-waste and sells them to schools. Juliet Wanyiri, founder of Foondi, runs electronics workshops with high school students. Chebet Lesan founded Bright Green Enterprise, a company that transforms urban market waste into clean burning charcoal for cooking. Karl Heinz Tondo, founder of Juakali Box, uses 3D printers to produce educational tools for STEM. Michelle Ngure runs innovation education programs for youth at Global Minimum.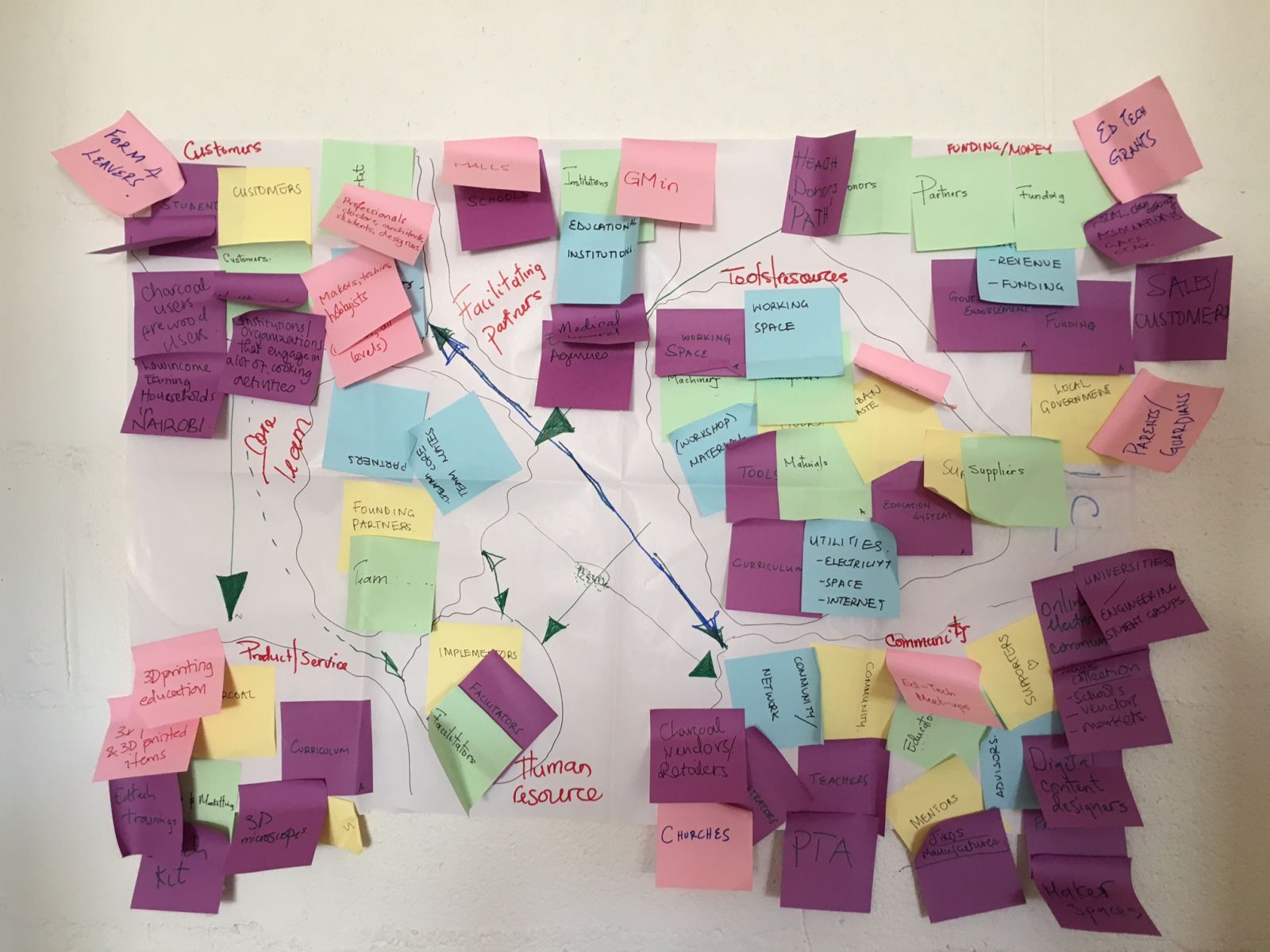 Team Kenya's map was all business. They drew thick lines connecting core teams, key human resources, products and services, customers, and investors. They also included key tools and resources like makerspaces and coworking spaces. Notably, the government did not feature at all: these entrepreneurs aim to get some traction first, and then hope the government gets on board later.
They invited the group to workshop business models for the 3D printing ventures, impact measurement strategies for the design education programs, and cost reduction strategies for charcoal briquette distribution. As Kenya has not yet hosted an IDDS, they also engaged us in a brainstorm of how to bring their local chapter together.
Spotlight: Pakistan
Team Pakistan is a tech-savvy group. Amna Batool is a lecturer at IPAL at Information Technology University, working on an IT solution to increase vaccination coverage throughout Pakistan (check out Har-Zindagi). At the same university, Umair Anwar has developed the Water ATM, an automated clean water tester and dispenser. Sacha Ahmad is leading an effort to roll out Rah-e-maa, an IVR app that educates fathers about maternal health. Shehzil Malik is a designer specializing in branding and marketing for social ventures and spearheads feminist public art projects. Ehsam Ullah Baig runs design education programs in refugee camps in the north of Pakistan through the Tele-Education Center.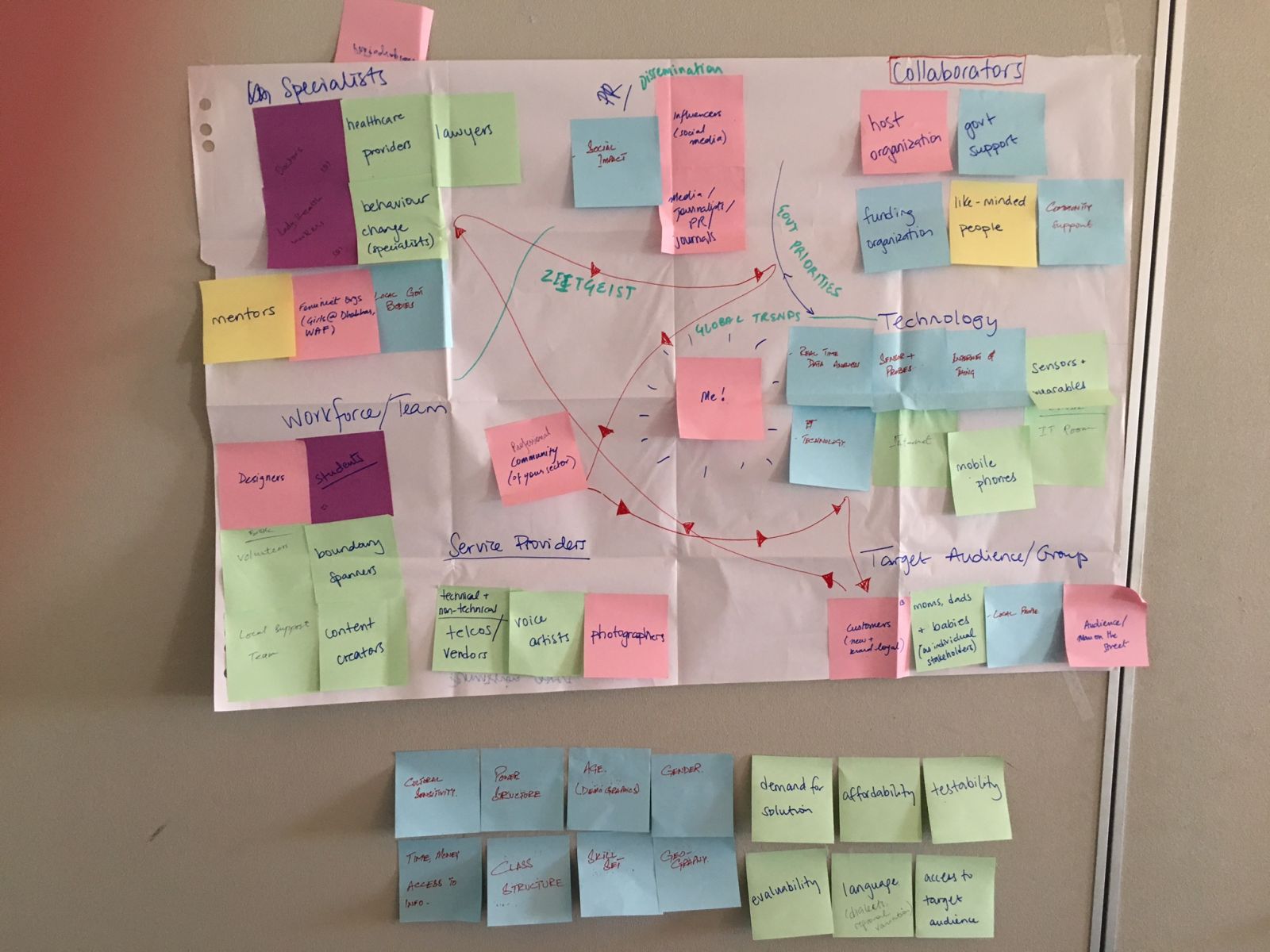 In addition to the team, the technology, and the customers, the government features prominently in Pakistan's ecosystem map. Government support is crucial to the advancement of many of these technologies, especially those incubated at the public university. The government is also keen to integrate technology into many public programs, so working closely with them is strategic. Most interesting about Team Pakistan's map is that they explicitly included several underlying conditions and cultural factors, including power structures of class and gender, challenging geographies, and political priorities.
In the breakouts, we mapped out an impact measurement strategy for Rah-e-maa, brainstormed strategies to reduce the cost and increase the scale of the Har-Zindagi vaccination system, and began the design of an online education portal in a refugee camp.
Takeaways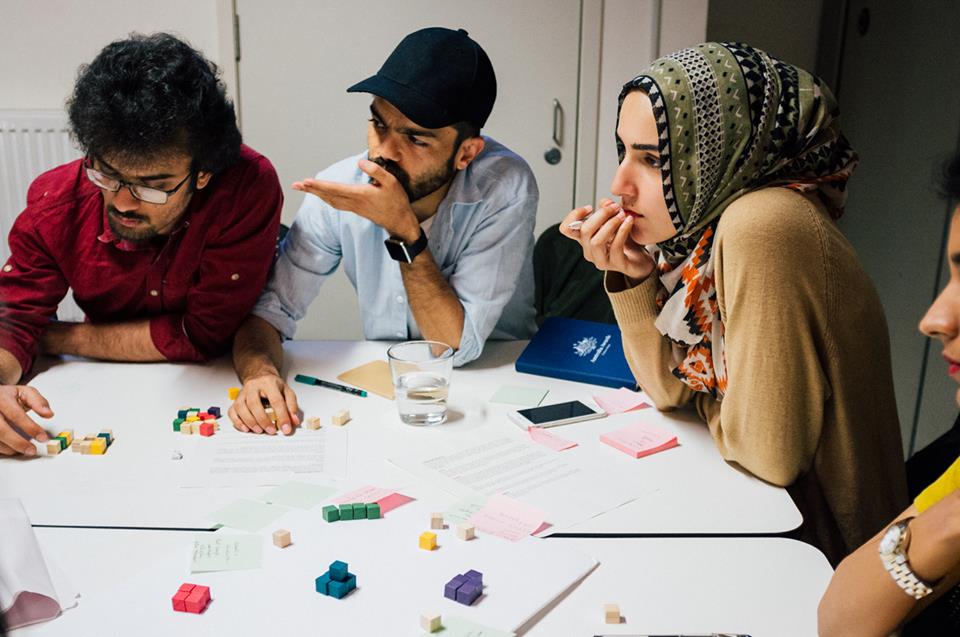 These brainstorms spilled over outside of sessions and into coffee shops, tram rides, and campfire circles. Days later, we rolled out butcher paper by the barbecue to sketch out the design of a micro-franchise model for Bright Green Enterprises. We asked Australian design students to help choose impact metrics for Global Minimum. And yes, we discussed user personas as kangaroos hopped through a nearby meadow. (Australia's ecosystem has its perks, too!) Here are a few of the main takeaways:
Producers vs. supporters: If you squint at the team profiles, you'll start to see some patterns. Several individuals play the producer role in the ecosystem: the app developers, hardware manufacturers, and entrepreneurs. Another cluster of individuals play supporter roles: the educators, marketers, and consultants who nurture and assist the producers. The lines aren't solid; in this group, roles blur between entrepreneur and educator, designer and liaison. Still, it's clear that both must be present for innovation to thrive.
Maps can be revealing: Whether geographical or conceptual, maps always reflect the cartographer's own location and worldview. The three teams' ecosystem maps speak volumes about where they are situated, what they prioritize, and what forces are dominant in their environments. The Guatemala team's map centers on IDDS; the Pakistan map makes visible the invisible factors like gender roles and political power; the Kenya map takes a business-centered approach. By comparing the maps side by side, we see not only what has been included, but also the actors and connections that are not present.
Business, data, & networks: A few themes came up again and again in the teams' breakout sessions. The first is business models – this group of designers was keen to explore avenues to financial sustainability, cost savings, and scale. The second is impact measurement: many wanted to explore affordable and insightful ways to capture and share data on their work. The third relates to the chapter itself – how can this small group of people play a role in supporting each other and other innovators in their communities?
What is the shape of your innovation ecosystem? What role do you play? Leave us comments on our Facebook page!
Laura Budzyna is the Monitoring, Evaluation & Learning Manager for the International Development Innovation Network, headquartered at MIT D-Lab.
Related blogs: