IDIN Network Members Study in the US as Part of the Young African Leaders Initiative
blog
Thursday, November 3, 2016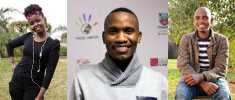 "Meeting 1,000 Young African Leaders made one thing very clear: Africa is rising. With proper leadership, Africa's ability to be a leading continent in innovation, manufacturing and technology is unstoppable. We realize now, that the African minds are of impeccable intelligence," says IDIN Network member Chebat Lesan about her experience with the Young African Leaders Initiative (YALI).
This summer, three IDIN Network Members were selected to participate in YALI as part of the Nelson Mandela Fellowship Program, chosen for their outstanding record for promoting innovation and change in their organizations and their countries, and were given the opportunity to attend six weeks of mentorship and training at 20 universities across the United States. Sponsored by the US State Department, the YALI network is designed to connect bright young minds with experts in their respective fields, as well as connections across the network to benefit their communities.
This year, Chebat Lesan of Kenya, Jesse Oljange of Tanzania, and Stephen Molathegi of Botswana, were among the 500 chosen from a pool of nearly 50,000 candidates to be one of the 2016 fellows. This year's class of fellows represented people from all 49 countries of sub-Saharan Africa. Half of the fellows were woman, and  one-third of fellows were from rural communities. Fellows even got the opportunity to meet U.S. President Barack Obama!
"It's still difficult to describe the joy I felt when I received the confirmation email that I had been selected for the 2016 Mandela Washington Fellowship. Oh! Did I tell you it was on my birthday? So you can imagine how ecstatic I felt. It was hard to believe it despite having dreamt and prayed for it several times. I am not even sure what excited me most: whether it was setting foot in the US or meeting President Barack Obama. Right in the middle of the joy, elation and strenuous efforts of getting the whole idea to sink in, came an inundation of paperwork and preparations for the one-life unforgettable experience in the United States of America," says Stephen Molatlhegi, an IDDS D'Kar 2015 alumnus and part of this year's class of scholars.
Stephen was placed at Howard University with the public management group, which involved a busy schedule of academic coursework, community service trips, and networking events.
Stephen continues, "The six weeks we spent at Howard University also emphasized experiential learning through networking with other young professionals, leaders in the public management sector and other community leaders. I got to meet some very interesting individuals and made significant contacts in my field, that I can use for support or start partnerships to develop projects that will empower our communities and develop Africa. Above this, meeting U.S. leaders... gave us a rare opportunity to discuss the development of Africa, its challenges and our role as young African leaders in building a peaceful and prosperous Africa. Talking to these leaders and experiencing their energy was inspiring."
The Nelson Mandela Scholars program is one of the keystone programs of the Young African Leaders Initiative. Since 2014, it has provided thousands of young African men and women with the opportunity to visit universities across the United States, to better empower them with the tools they need to make change in their communities. After the completion of the scholar's time in the United States, the fellows return to their home countries and have access to support from USAID and the U.S. embassies of their respective states to support their projects and further professional development.
Chebat Lesan, with the help of IDDS 2014 in Tanzania and the support from USAID, has founded and is now the CEO of Bright Green Renewable Energy, an entrepreneurial venture in Kenya that makes charcoal briquettes out of biomass and waste. The Moto Briquettes, made by Bright Green Renewable Energy, burn smokeless and are long lasting, as well as assisting in reducing the rates of deforestation in Kenya by reducing demand for wood charcoal.