IDIN Network Member Marc Mate Visits MIT D-Lab From Zambia
blog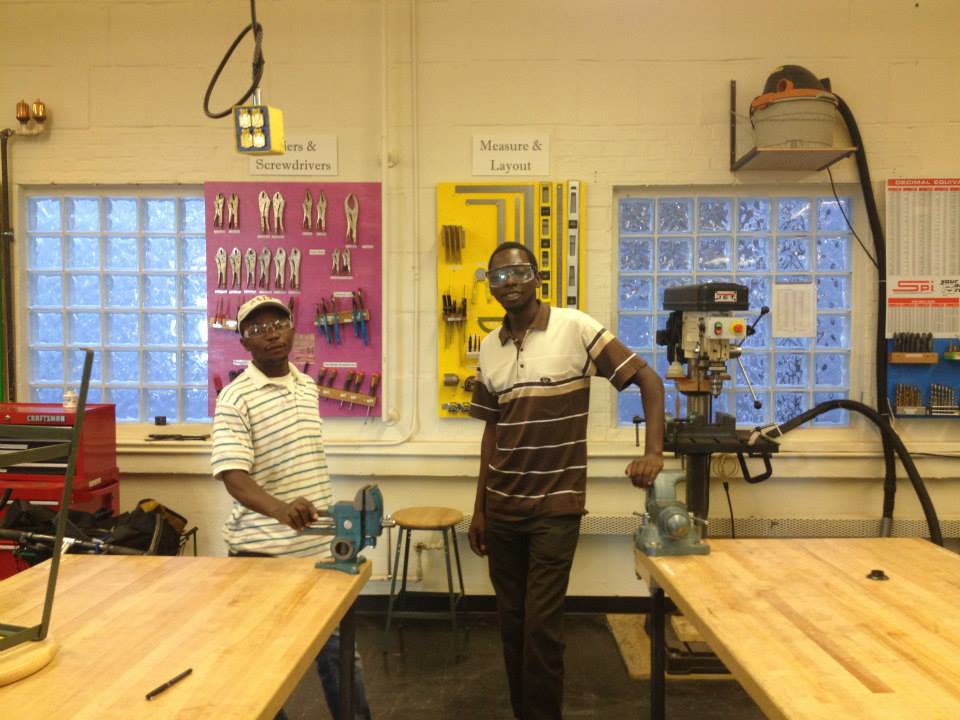 Champions importance of designing for your next-door neighbor
When Marc Mate graduated with a degree in chemical engineering from Copperbelt University in Zambia he thought he might find a job conducting high-tech research for local industry.
It would have been a natural fit for Marc, who wanted to become a scientist since the fourth grade.
Fast-forward about a year and half and you'll find Marc visiting MIT D-Lab.  But his latest work, focused on how best to drive innovation, is a lot less about chemicals and reactors than it is about charcoal, tree roots, and corncobs.
Marc is part of the IDIN Network, which is guided by the simple belief that people living in poverty are creative, resilient, and innovative and given the right support can be drivers of their community or country's development. It's a mission that Marc takes to heart.
"Innovation is found everywhere in the world. It cannot be taught in a classroom. The only problem is people do not recognize the creativity that lies within them. That's where IDIN comes in," Marc says.
Design summits as a "life-changing experience"
Marc works for IDIN's newest partner, the National Business Technology Centre, or NTBC, a government office focused on commercializing and expanding technology use in Zambia. NTBC officially joined the IDIN Consortium in May 2014 to coordinate IDIN's Network and ongoing activities in Zambia.
A friend told Marc about an internship at the NTBC after graduation, and he was soon tasked with organizing the Centre's role in IDIN's International Development Design Summit  (IDDS) in Zambia, a five-week workshop that took place in the summer of 2013.
Bringing together diverse innovators from across the globe, IDIN's summits are hands-on design experiences in which attendees learn from the communities around them and then develop real life prototypes or other low-cost solutions to tackle the challenges those communities face.
As Marc puts it, innovation is key to improving life everywhere—not just at universities, hospitals, and labs, but also in rural homes, farms, and schools. And that's crucial in his home country, Zambia, where most people face steep challenges addressing basic needs like health care, education, clean drinking water, and education.
"It doesn't make sense for me to develop high-tech stuff for the wealthy and not be able to do for the people living around me," Marc says. 
"IDIN has impacted my life. The concept of designing for your next-door neighbor to make his or her life better was completely foreign to my understanding. It was not how I was taught."
Marc remembers IDDS 2013 as a life-changing experience. Summit participants worked with local farmers to find better ways to seal and store grain, learned how to make cleaner charcoal from corn cobs and local tree roots, and designed low-cost menstrual pads for women and girls who before went without.
Looking forward: high hopes for local innovation
Today, IDIN supports a dynamic group of 40 summit alumni in Zambia with help from Marc and the team at NTBC, where Marc is a full-time employee supported by IDIN. The alumni have organized into a local chapter dedicated to driving innovation in Zambia through the support of projects, fellow innovators, and eventually, the establishment of a collaborative maker space called an Innovation Center.
Marc is visiting MIT D-Lab for two weeks to work closely with the IDIN core team in developing a work plan for NTBC's work supporting and growing the IDIN Network in Zambia.
Marc has high hopes for the network's future, and whatever his future holds, he's sure it will involve local innovation.
"I believe so much in the IDIN approach to development. Involving local communities in design is key to helping African communities rise above social and economic challenges," he says. "At the end of the day, this approach is going to change the way we think about and practice international development."
Marc is one of hundreds of incredible IDIN Network members around the world. Read more about innovators like Marc here.