IDDS Aarogyam Project Reports Are Now Available!
blog
Friday, September 25, 2015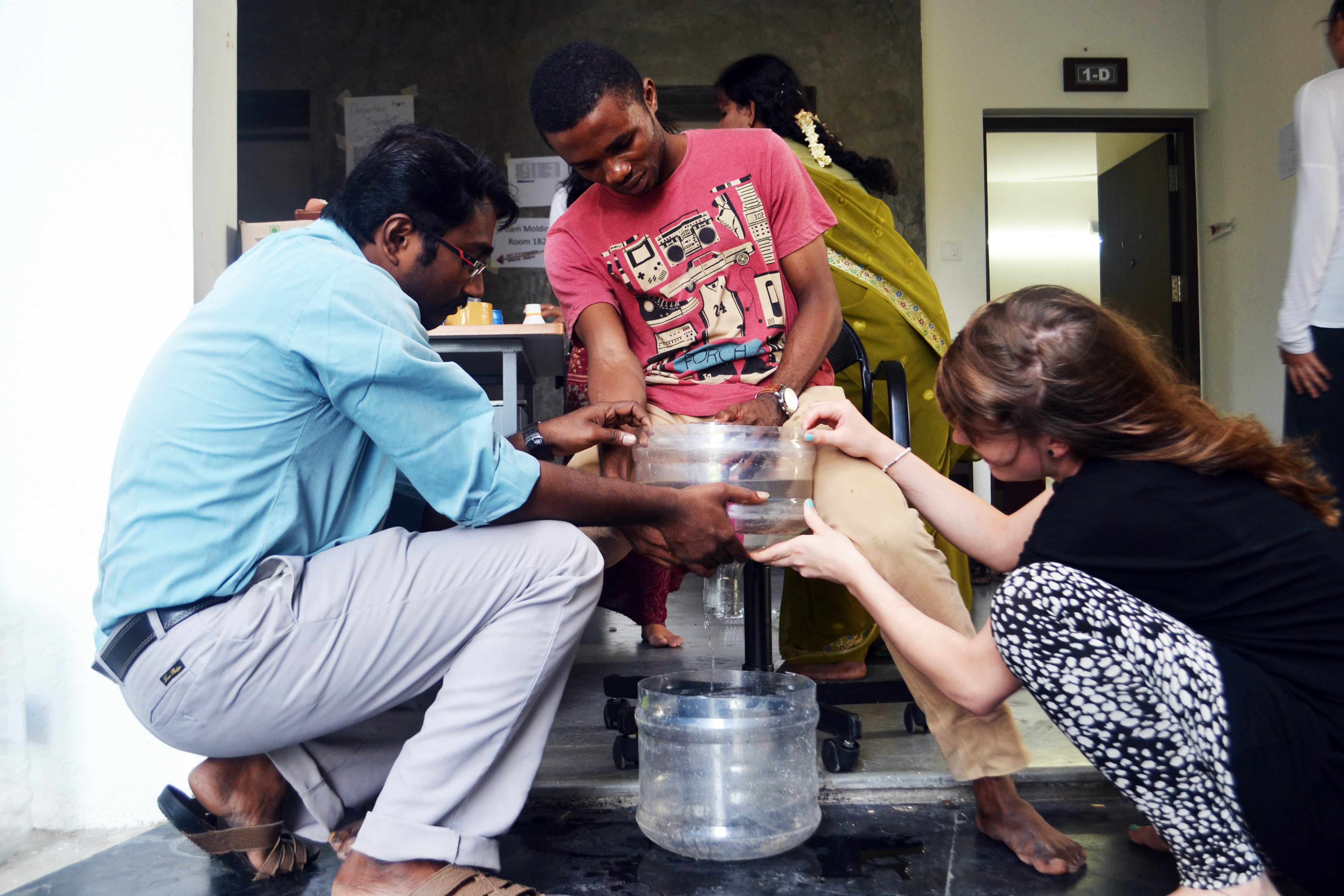 IDDS Aarogyam, the four week health-themed International Development Design Summit in Chennai, India closed out strong about two months ago and project reports are now available online! 
The month long summit brought together 46 participants from 18 different countries to learn about the design process and co-create solutions with their groups to 8 different health challenges faced in the Chennai area and around the globe.  For more information, you can read each of the IDDS Aarogyam project reports by searching in the IDIN Resource Library or clicking one of the links below.
Child Safety Harness Vests for Road Safety
In Tamil Nadu, road accidents are one of the leading causes of unnatural accidental death. Chennai is home to a bustling automotive industry and roads are clogged with a growing vehicle population. Among those are motorcyclists, who find that it is difficult to find helmets designed for children.  This team group created a low cost vest protoype to protect child motorcycle passengers in areas with high road traffic accident risk rates.  Read about the ELAI Safety Harness Vest project here.
Iron Supplementation Device to Prevent Anemia
Iron deficiency anemia is a global issue. It is prevalent in the greater area of Kuthambakkam due to an iron poor diet, which can affect everyone. The team created a prototype of a low-cost device that dispenses iron into local water filtration systems to prevent anemia.  Read more about the StayPink Iron Supplemenation project here.
Neonatal Resusitation Device to Help Newborns Breathe
When newborns are having trouble breathing, health workers can find it difficult to provide the proper resuscitation support until an ambulance arrives.  Some resuscitation devices are costly, while other devices are difficult to use or require resources like oxygen tanks. This team group designed a low-cost  and easy-to-use prototype of a new infant resusistator complete with heart-rate monitor and positioning pillow.  Read more about the Helping Babies Breathe - Neonatal Resusitation project here.
S.M.A.R.T. Box to Preventing Contamination of Medical Instruments
Busy health care workers struggle with keeping medical instruments clean and organized, which can sometimes lead to contamination of tools. This team prototyped a low-cost Sanitary Materials and Resources Tools (SMART) box.  The prototype is an organizational device and sanitized box for treatment of equipment and supplies that reduces the risk of contamination, while facilitating health worker's productivity.  Read more about the Semma Clean S.M.A.R.T. Box project here.
Rural Delivery Pack and Care to Improve Elderly Access to Medication
Chennai's elderly population faces challenges in accessing medication in a timely and cost-effective way. In some cases, the indirect costs to accessing their medication can surpass the cost of the medication itself. This team created a prototype of a low-cost delivery and care pack for health care workers assiting elderly diabetic patients.  Read more about the Sukh Rural Delivery Pack and Care project here.
Birth Spacing Decision Wheel to Help Couples in Family Planning Process
Many couples in Chennai want to space births by two or more years, but lack information about different methods and alternatives for birth spacing. This team group designed a simple, low cost prototype of a decision wheel and contraception container to help families in their family planning process.  Read more about the Pagir Birth Spacing Decision Wheel project here.
Nutrition Monitoring and Education Tool to Improve Nutrition in Rural Villages
Lack of a healthy and balanced diet often contributes to risk of disease in rural India. Monitoring and education about nutrition remains a challenge for health auxilary workers. This team group designed a prototype of a low-cost, portable, and user-friendly device for health auxilary workers that measures and monitors child nutrition.   The prototype meausres and montiors certain health indicators (height, weight, and nutrient levels) as well as reccomends locally avialable agricultural products to be consumed as supplements for any diagoned deficiencies.  Read more about the Thalir Monitoring and Education Tool project here.
Baby Thermometer to Improve Measuring and Monitoring of Temperature in Newborns
Health auxiliary workers often lack the proper tools for measuring and monitoring babies' temperatures, and temperature is not the only indicator that signals a baby may need to be taken to the health center. This team created a low-cost baby thermometer prototype that is specific to the neonatal anatomy, accurate in its read-out, and appropriate for low and illiterate health workers.  Read more about the KREST TempIt Baby Thermometer project here.