Global Poverty Seminar: Think Big, Start Small
blog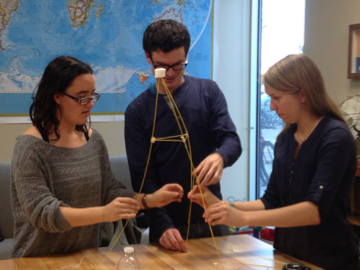 The Global Poverty Seminar for undergraduate students was born as a joint venture between The UC Davis Blum Center and the UC Davis D-Lab on Winter 2016. This 2-unit seminar led students through the process of transforming their project ideas that aim to address poverty and inequality into strong project proposals for the undergraduate's Blum Grant: Poverty Alleviation Through Action.
Beginning with a theoretical framework about global poverty and inequality, students were guided through the steps needed to build a strong grant application. Innovative tools and activities such as the Empathy Map or the NABC Method to Develop a Pitch, case studies, mentor feedback, and guest speakers, helped students attain a better understanding on which problems or needs they wanted to address and learn how to create a strong value proposition that their clients will value. 
 At the end of the course, students not only gained a deep understanding on important considerations one must keep in mind when building a grant proposal for the Blum Grant Center, but also learned important lessons to keep in mind when working abroad.
As Professor Kurt Kornbluth, Founder Director at UC Davis and Associate Director of The UC Davis Blum Center for Developing Economies, explains: "We want you to go and have a learning experience by solving real problems for real people". This is why understanding a client's context and needs constitute the first part of this course. After the problem is sufficiently understood, students worked to identify the best solution based on their client's need.  
From Ideas into Action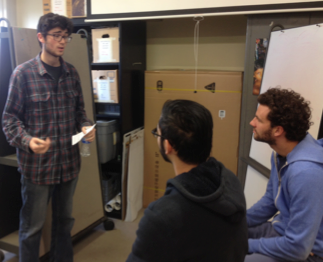 Student Kalen Kasraie pitching his project idea and Mentors: Ernst Bertone and Wayland Singh.
Because we wanted the students to be ready to present their projects to other potential investors, after the problem statement and the solution were well defined, students had the opportunity to present their ideas through a one-minute pitch to a panel of mentors, who in turn provided useful feedback to move forward. 
A key partner of this collaborative initiative is the International Development Innovation Network (IDIN), which like the Global Poverty Seminar, also emphasizes the importance of working with local innovators and communities to build technologies according to a community's needs, knowledge, and available resources. IDIN's Student Engagement Initiative helps connect innovative IDIN Network members and local innovators with students interested in working with them during Summer 2016. As a result of the students' hard work and lessons gained through their participation in the Global Poverty Seminar, 5 UC Davis students were able to attain Blum grants to work with local innovators on IDIN projects.
The Global Poverty Seminar: Think Big, Start Small was not only an invitation to students to increase their chances to build a strong Blum Grant Proposal but also to gain hands-on experience in international development. Interested in learning more about the Global Poverty Seminar: Think Big, Start Small? Let us know and we will keep you informed of future openings. To find out more about this initiative, visit our website at blum.ucdavis.edu or email us at blumcenter@ucdavis.edu. You can also learn about other UC Davis D-Lab courses at http://piet.ucdavis.edu