A Conversation with Betty Ikalany: Uganda Innovator & Clean Energy Champion
blog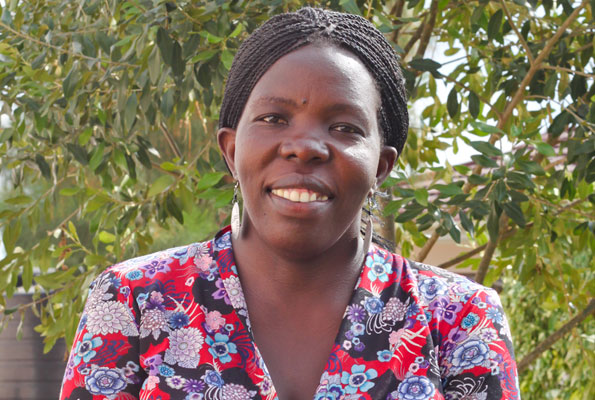 Founder and CEO of the Teso Women Development Initiatives (TEWDI), community organizer, clean energy champion, IDIN Network member, and single mother of two children, Betty Ikalany has her hands full.
Betty grew up and lives in Soroti District in Northeastern Uganda where she found her passion for working with and for people living poverty.
This past summer, she attended the International Development Design Summit (IDDS) in Northern Tanzania with a goal of developing new skills that would aid her work running TEWDI, a social service organization offering job training, HIV/AIDS prevention, programs to prevent violence against women and home to an agricultural waste charcoal briquette enterprise.
At IDDS, Betty was part of a team developing a toolkit for primary school teachers to address low levels of education in Orkolili, a Masaai village in the Moshi Region of Mt. Kilimanjaro.
Betty is also a long-time friend of MIT D-Lab. Her organization, TEWDI, is a partner of the Harvest Fuel Initiative, a collaboration between D-Lab Scale-Ups and The Charcoal Project.
Recently, I had the opportunity to ask Betty some questions about her work before and during IDDS, as well as what's next for her as an innovator.
For starters, tell me a little bit about you. What interests you?  
I am a social worker with over 10 years' experience working for those at the bottom of the pyramid, especially people living with HIV/AIDS. My area of interest is women's empowerment for poverty eradication. I am currently involved in several projects aiming to improve women's livelihoods: training communities to recycle cotton husks, bee keeping, kitchen gardening, creation of women's savings [groups] and credit villages associations.
[I'm also] training communities on how to recycle agricultural waste to make biomass charcoal briquettes as an alternative clean source of fuel to firewood and wood charcoal.
Speaking of charcoal, don't you have some exciting news to share?
I've just been to Nairobi to receive a SEED Award on behalf of the Appropriate Energy Saving Technologies (AEST Ltd.), a business I founded that makes and sells charcoal briquettes made from recycled agricultural waste as a viable alternative to fuel like firewood. The SEED Awards support innovative social and environmental start-up enterprises like AEST Ltd. We are the Africa winner in recognition of innovation, entrepreneurship, and women's empowerment.
AEST also makes improved cookstoves for households and institutions. Our briquettes are smokeless, so they save many people from respiratory health problems, which kill so many women and children. They are cheaper and burn longer so families and institutions can save the amount spent on fuel.
That's incredible. Do you think of yourself as an innovator?
 I think I'm an innovator and so should everyone else. In each of us, we have great ideas that we have not explored, most times because we think we are not fit to be innovators. Before I attended [the design summit], I did not know that I am an innovator. I had never come to realize that what I was doing was innovation in itself.
Can you tell us a little bit about your work as founder and Executive Director of the Teso Women Development Initiatives (TEWDI) in Uganda?
TEWDI was started in 2011 by a group of women concerned about increasing levels of poverty and human rights violations, especially for women and children. We were seeing that this was linked to limited access to livelihood skills in poverty-stricken areas.
Now, we work on mobilizing Soroti District communities to participate in promoting longer healthier lives and providing opportunities to achieve socio-economic freedom to women and children in the region.
What did you take away from the International Development Design Summit experience?
[My team and I] looked at how to innovate education in Tanzania. We worked with the Orkolili Secondary School to collect information about education in Tanzania. We learned that 88 percent of secondary students do not proceed to form 5, then enter the workforce without skills to generate income for themselves.
After a series of discussions within the team and with the community, we decided that we wanted to provide local school leaders with an innovation toolkit that will equip them with all the necessary information and technical know-how to implement innovation in the school. It will consist of innovation curriculum, a support manual for instructors, and the local materials required to use the toolkit. The curriculum outlines how to build a number of low-cost, but practical products built by other IDIN Network members and relevant to the problems faced by the community.
We're excited to welcome you to the IDIN Network. Now that you're back in Uganda, what's next for you?
The current education system in Uganda does not equip students with skills to obtain a job or start something on their own. As a result, these students are marginalized due to a high rate of unemployment and lower annual income. Technology and local innovation will improve the lives of young people and adults and strengthen their communities.
I am currently working on setting up a mobile innovation technical center that can excite young people's innovative minds in my community to solve problems in their communities and reduce poverty. Our innovation center is currently being held under a tree and we are busy trying to innovate a new machine that can extrude charcoal briquettes faster and a more efficient kiln to reduce smoke emitted during the carbonization process.
Betty is one of hundreds of incredible IDIN Network members around the world. Read more about innovators like Betty here.