Catalyzing Co-Creation and Inclusive Development in Southeast Asia: IDDS Sisaket in Sisaket, Thailand
blog
Wednesday, September 6, 2017
"I wanted to mix and match, and mold, and temper, and push what I learned with other people."
This is how IDDS Sisaket Lead Organizer Hermes Huang described what he had set out to do after attending his first IDDS over a year ago. Now, Hermes joined a panel of IDDS veterans at the front of a large community center. Together, they shared their insights on innovation in development and design with the newly arrived participants of IDDS Sisaket, the first International Development Design Summit to be held in Southeast Asia.
Doing Development Differently
IDDS is a hands-on design experience bringing together people from different communities and all walks of life to improve the lives of people living in poverty. It centers the idea that working with communities is more powerful than designing solutions for them. This summer, Hermes and his team connected over 50 international participants and organizers with local community members in the village of Baan Hang Wao, in Sisaket, Thailand. With over 70% participants from Southeast Asia, they brought with them regional expertise, in addition to cross-sector technical knowledge. The group's professional experiences spanned across social entrepreneurship, agriculture, sustainability, ICT for development, activism, engineering, and education, but all, were committed to exploring new ways to inclusive and sustainable development.  
"People over Process over Product"
Over the course of an intensive two weeks, summit participants trained in the co-creation design process. Through focused information gathering, problem framing, and prototyping sessions, they learned to apply this process to tackle local concerns expressed by villagers. Working with an approach to development centered on building relationships, participants learned about concerns ranging from health issues, to local market demand, to organic pest management. Summit participants formed teams to listen to these needs and strive to design solutions, together.
Ultimately, six prototypes were developed. These prototypes were shared in a public showcase, where community members from across local, district, and regional levels were invited to interact with the teams' work. You can learn more about the projects for yourself below: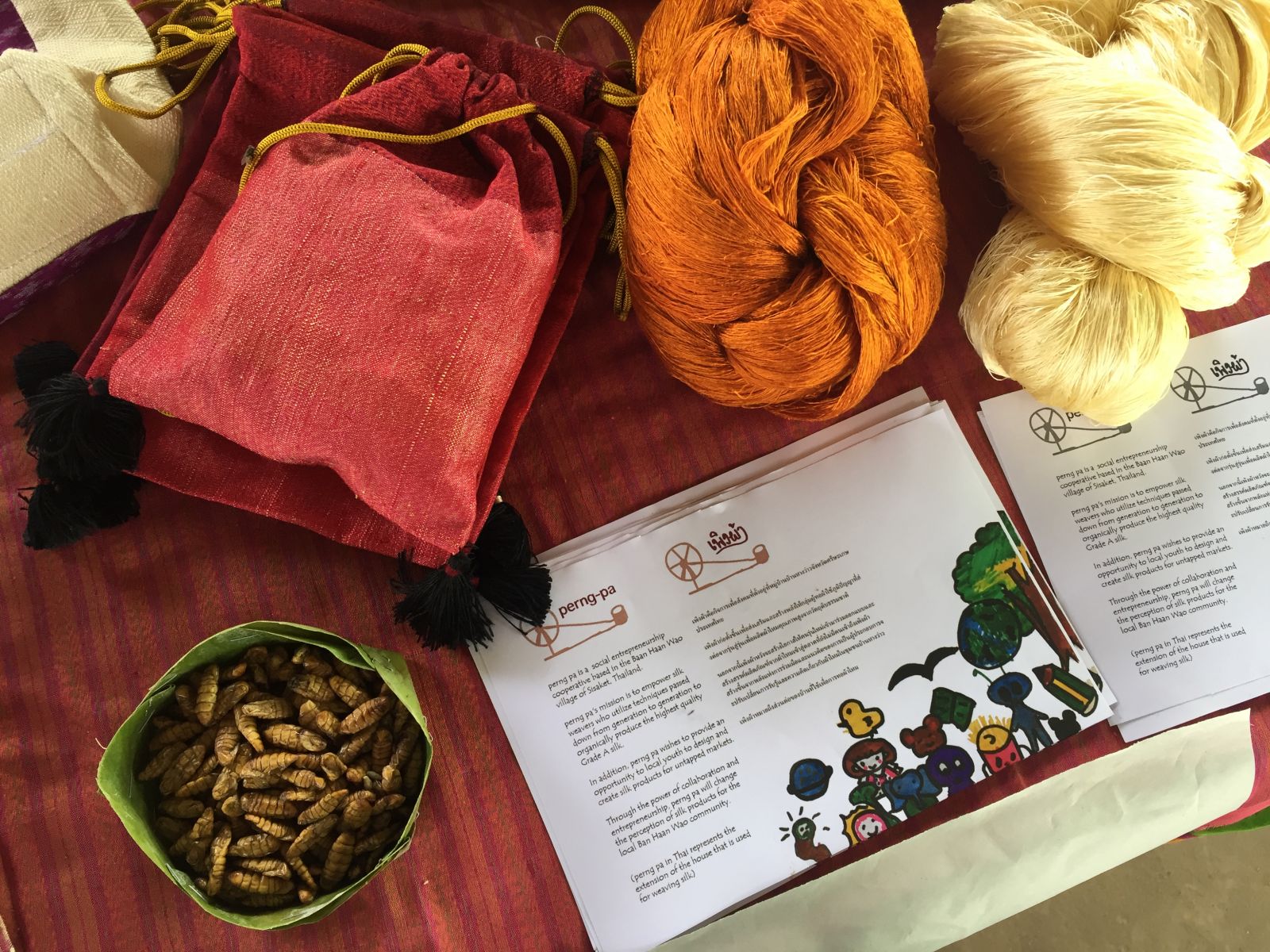 Silk Artisan Entrepreneurship: Connecting New Markets and Across Generations
Silk is considered a high-value product purchased for special occasions, such as going to the temple, to weddings, or as a gift. However, villagers' silk products are disconnected from markets with appropriate buying power and demand. The IDDS team sought to find ways to elevate the value of silk products to generate a fair income for silk weavers. The team brought together village youth with silk weavers to brainstorm, prototype, and share skills. Ultimately, the team designed two prototypes: a collection of silk products and an event organized to showcase these products to potential buyers. The silk products were co-created with silk weavers to design new patterns, and sold to the IDDS community. The event was co-organized by village youth, and held during the final IDDS Sisaket expo to display their work, but also to demonstrate the potential for youth and weavers to collaborate in selling silk products to untapped markets.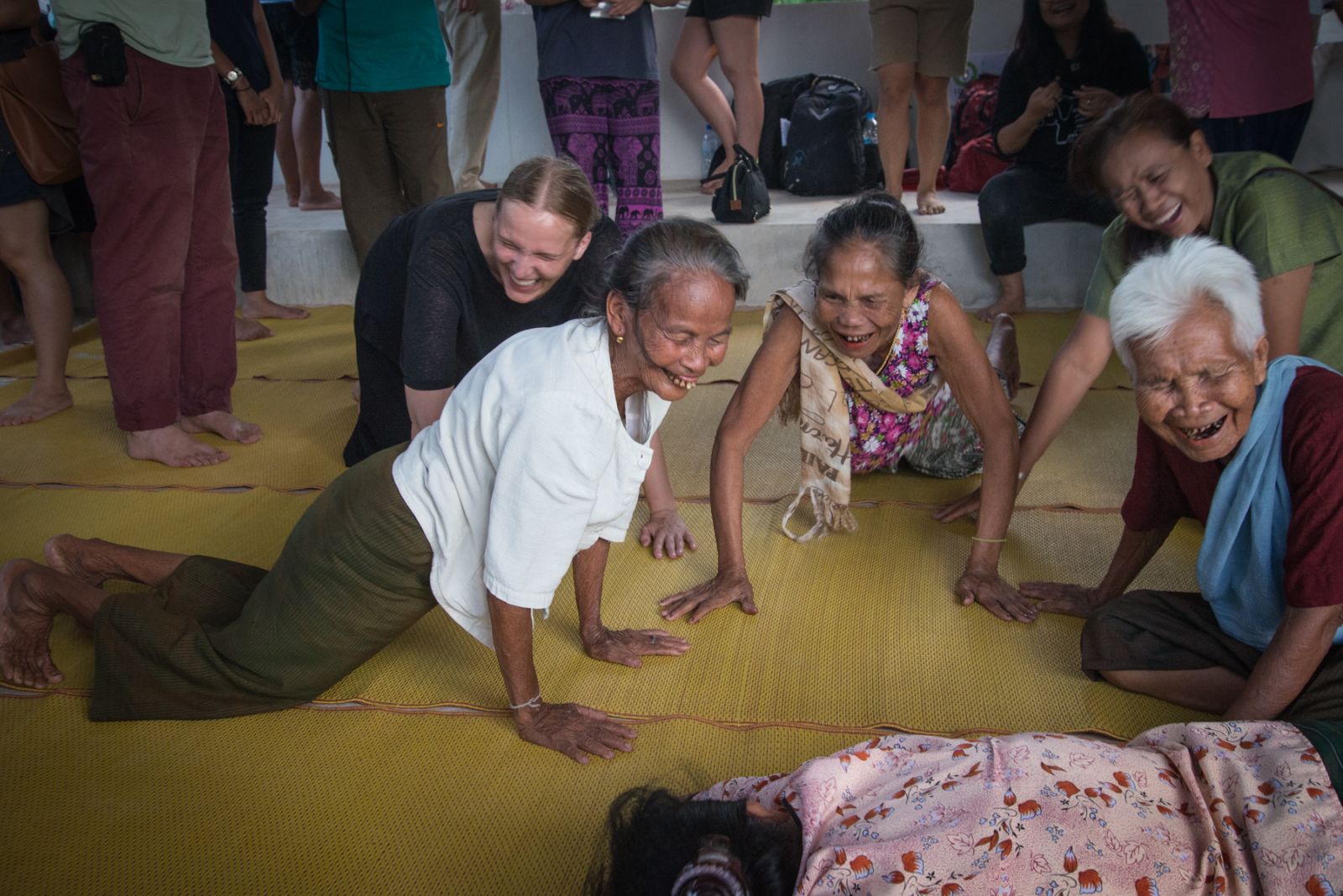 Rural Health: Sook Sisaket, Community-led Adult Health Club Initiative
Diabetes and hypertension are common health problems indicated by the villagers. When discussing community behavior and habits, the team found that many people were focused more on treatment, rather than prevention for any ailments. After a series of interactive discussions, the team found enthusiasm for collaborative group engagement through exercise. They designed a series of group flexibility and strength exercises for villagers, targeted towards adults. They created basic exercise equipment using local bamboo to supplement these exercises. Their project was rapidly supported by local villagers who expressed that they had previously wanted to establish similar group initiatives. During the summit, community members worked with the team to establish a health club that hosts daily meet-ups at village public spaces, leading each other in different exercises.
Read the report here!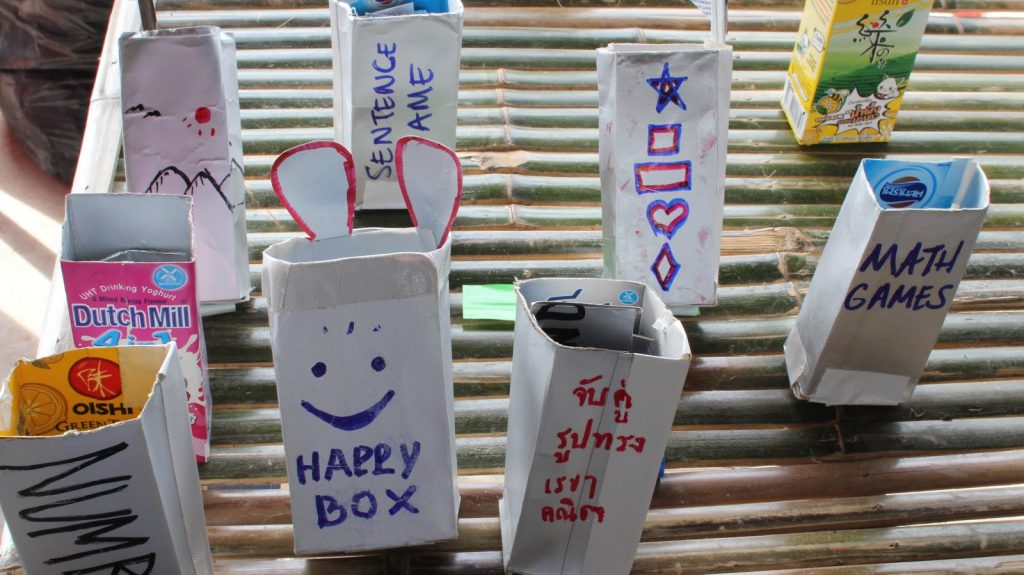 Waste Management: Repurposing Local Materials for Youth Education
Almost all surveyed villagers burn waste, either in the rice paddies or near their houses. They also noted that most of this burning happens in the late afternoon, creating smoke and pollution that affects surrounding houses. A sizeable percentage of the waste that is burned in Baan Hang Wao consists of tetra packs – the paper-like material used to make things like small and large juice boxes, which is not recyclable here. The IDDS Waste Management team focused on using these tetra packs, an easy-to-clean, high-use product, to physically reduce trash that would otherwise be burned, and ultimately demonstrate how to re-imagine the idea of "waste."  The team created games and educational activities that can be used for play by children, and to demonstrate new ways of educating youth for innovative thinking using local, recycled materials.
Read th report here!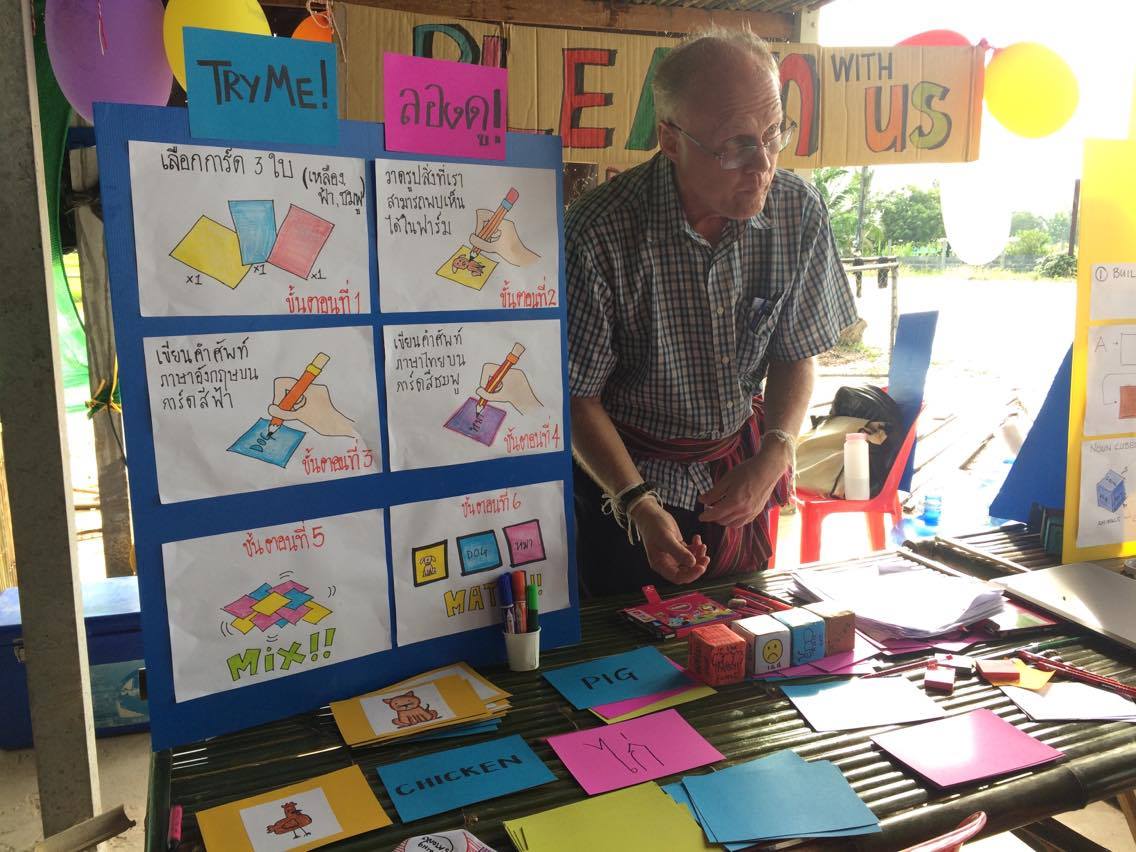 Education: PLEARN, Game-based Approach to English Language Learning
The local school in Baan Hang Wao identified English language learning as a critical tool to building student success for the future. PLEARN, 'play and learn,' was developed as a game-based learning approach that strives to help teachers teach students to learn English vocabularies in fun, practical ways. The local school is already a leader in experiential education, and the team focused on developing a series of games and activities that local teachers can easily integrate into their existing curriculum and draws from locally available materials.
Read the report here!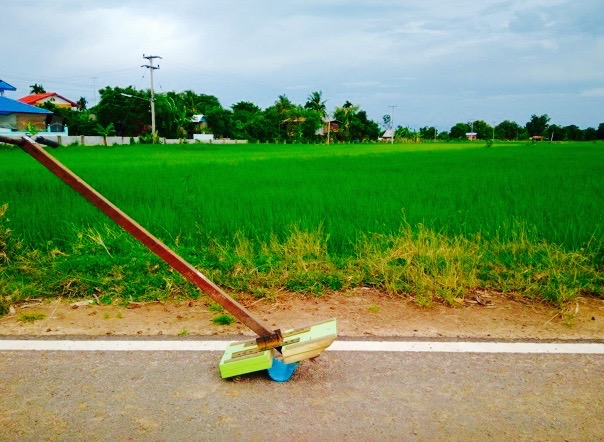 Organic Agriculture: Improving Weed Management for Rice Farmers
Local farmers identified weed control as a major difficulty for tending their rice fields. Usual methods require difficult manual labor to pull the weeds by hand or utilizing heavy tools, or herbicides that farmers have identified as health concerns. The team set out to develop a solution to reduce labor for managing the weeds and maximizing yields. Inspired by weed removal tools from across Africa and nearby Cambodia, the team iterated with farmers to create a buoyant, waterproof, and mobile tool. They designed a lightweight double blade weed killer intended for use in between rice paddy rows to increase ease of use, without sacrificing efficiency.
Read the report here!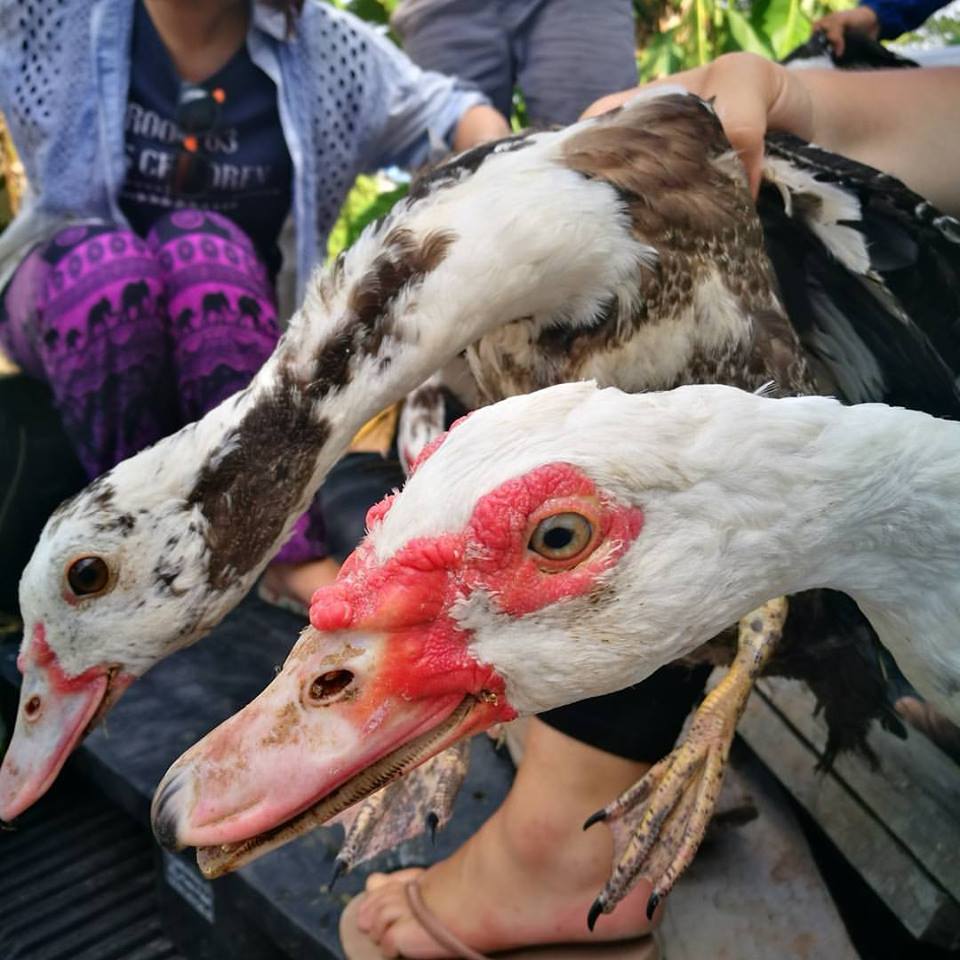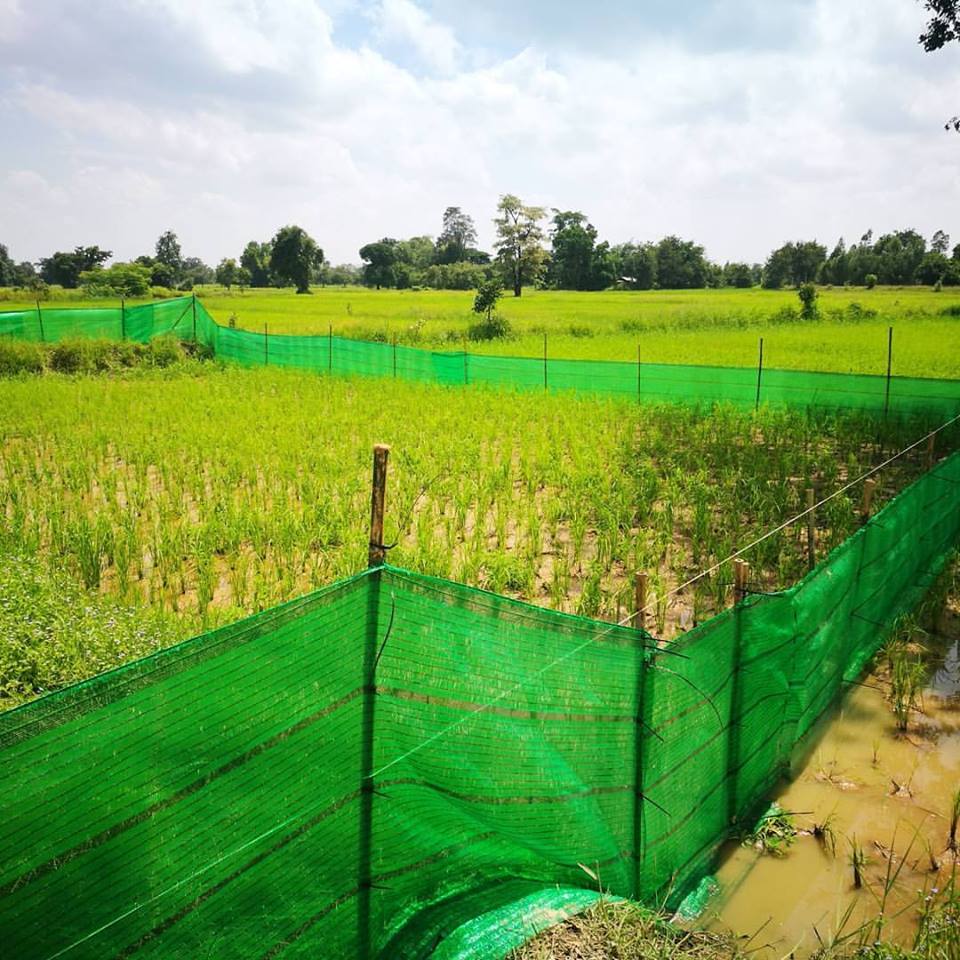 Pest Management: Ducks vs. Snails
Farmers experience trouble with pest control, specifically golden apple snails, which are an invasive species. Traditional methods of pest management have relied on expensive pesticides, but the IDDS team created an experimental intervention using locally bred ducks to control these pests. They designed and built a large pen to house the ducks, and worked with a local partner to coordinate a strategy for ridding the fields of the snails over time.
Read the report here!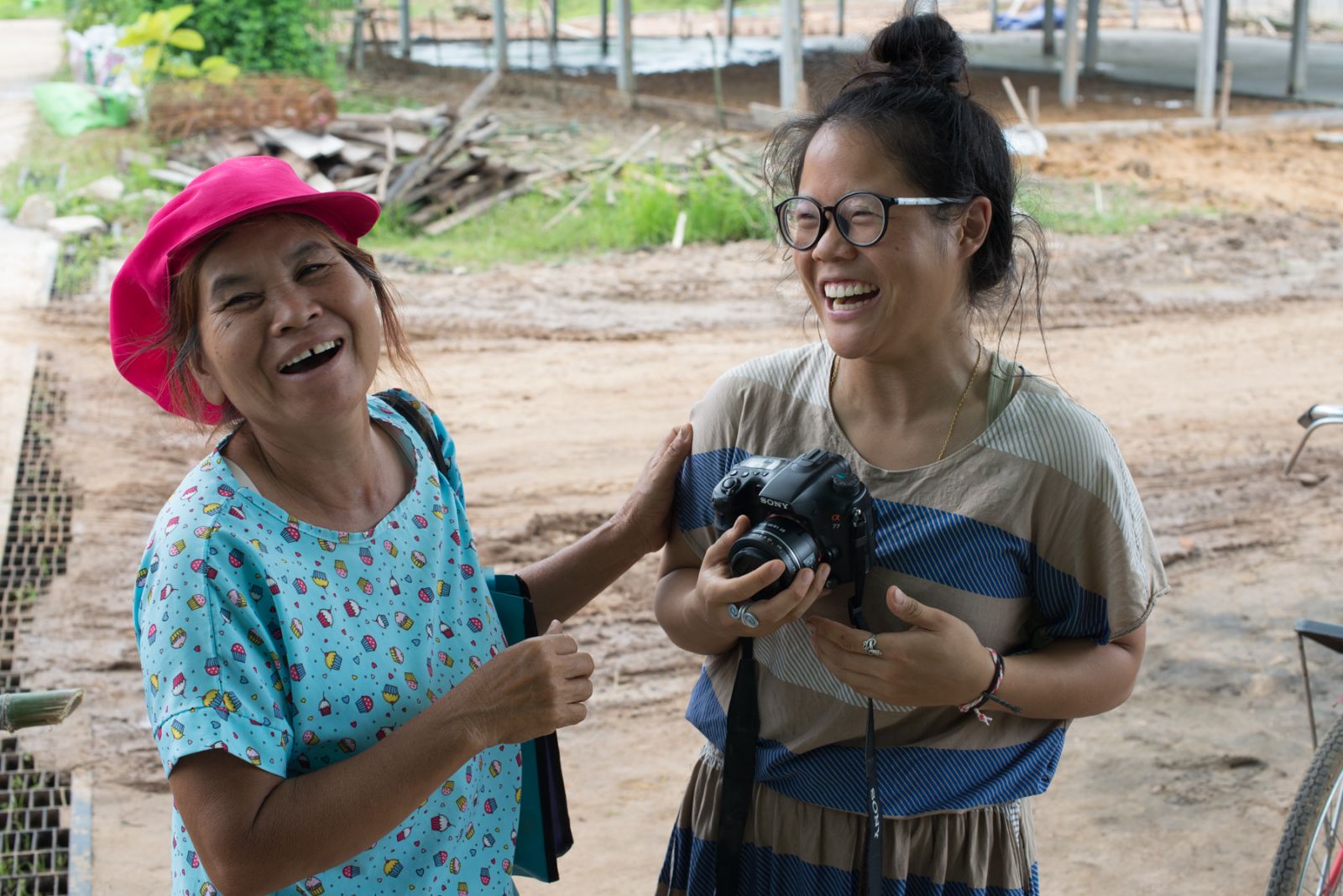 Continuing to Innovate, Together
Throughout this experience, participants worked to mix and match their knowledge, molding and tempering their experiences, and pushing for the kind of inclusive and sustainable practices and environments we envision, locally, regionally, and globally. IDDS Sisaket is just one of the first steps towards building that vision in Northeast Thailand and the Southeast Asian region. 
To learn more about how you can help continue building this vision, please visit IDDS Sisaket here.  
Trish Abalo is a 2017 Monitoring and Evaluation Fellow who attended IDDS Sisaket to help IDIN track, measure, and learn from this year's design summits. She also spent the summer working with the IDDS Sisaket Organizing Team, Raitong Organics Farm, and DSIL on diverse monitoring and evaluation projects to support their work at the intersections of design and education, agriculture and entrepreneurship, and sustainable development.