A 'Woohoo' Approach to Humanitarian Relief and Development
blog
Friday, December 19, 2014
Rethink Relief was held in Pader, Uganda in November 2014 and sponsored in part by the International Development Innovation Network. We are thrilled to welcome this year's participants to the IDIN Network.  
As Amy Smith put it on the first day of Rethink Relief 2014 in Pader, Uganda, whenever we felt something was challenging, like there was not enough time or we felt pushed to the limit, our response should be an emphatic, "Woohoo!"
The different teams took this mantra and ran with it! As the Lighting team, my team and I used the "woohoo" approach to tackle the lighting issue faced by the residents of Ayilo refugee camp in Northern Uganda and other refugee camps across the world. The team was a multidisciplinary team comprised of mechanical engineers, a product designer, residents of Ayilo camp, a machinist, a teacher, a social entrepreneur, and a student.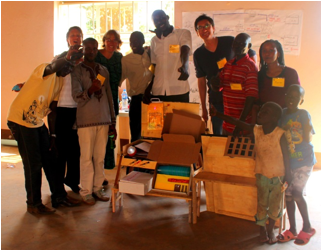 Members of Light Team (L-R): Lual, Jen, Mensah, Thomas, Clarence, JY, Daniel, Marian, and featuring children from Pader.
Suitable lighting is a necessity that many humanitarian organizations tend to overlook in relief situations. But think about it: how important is light in your life and in your day-to-day activities?
Now imagine a life filled with darkness. A life with limited movement because you are afraid that you may be attacked on your way to the nearby latrine, a life whereby you have to close your workshop early when evening falls, a life whereby you struggle to study for your exams because your home has no light.
It is tough for many to imagine such a life, but that is the norm for many in Ayilo camp. Due to those and many other reasons, the light team was determined to find a solution.
After days of brainstorming, illustrating a value chain, developing a sketch model, and finally building a prototype, WE Light was born. The name WE Light was agreed upon to show that the product was for any user and for the community as a whole.
WE Light is comprised of 3 different types of kits:
Make Your Own Light: This kit has the basic components to make a light, including an LED, battery, connector wires, and resistors. The kit also includes various accessories like housing to complete the user's design.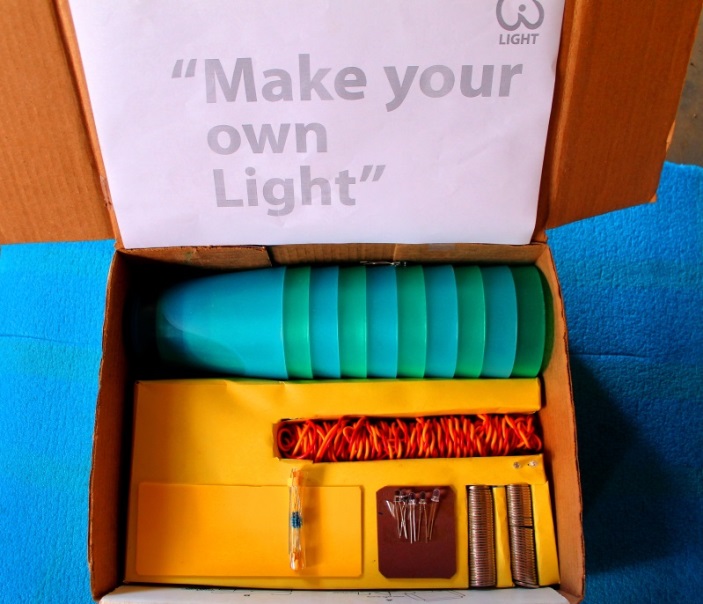 Make Your Own Light Kit
Make Your Own Business: The kit includes all the light components found in the Make Your Own Light kit, but in bulk supply.  Also included in the kit are user manuals and a text book in both English and Acholi.  This is to enable the user to gain the skills needed to start a fully functional light manufacturing business. The books give the user both technical and entrepreneurial skills needed to make their business both profitable and sustainable. This information would also be available in video format on microSD cards that could be played on a mobile phone when literacy is a challenge.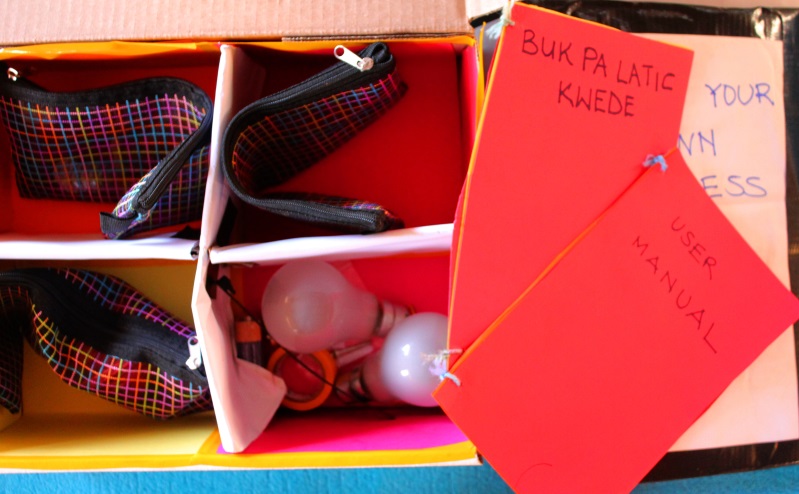 Make Your Own Business Kit
Make Your Own Ceiling/Wall Light: This kit is specifically used to make 2 types of light: a ceiling light and wall light.         
Ceiling Light
The overall packing is labeled the Relief Box.  Once deconstructed each component of the Relief Box can be easily assembled to make a complete workstation.  Inside the Relief Box is another box which houses the Make Your Own Business kit.  The housing of the Make Your Own Business kit also has the capability of transforming into a portable functional table.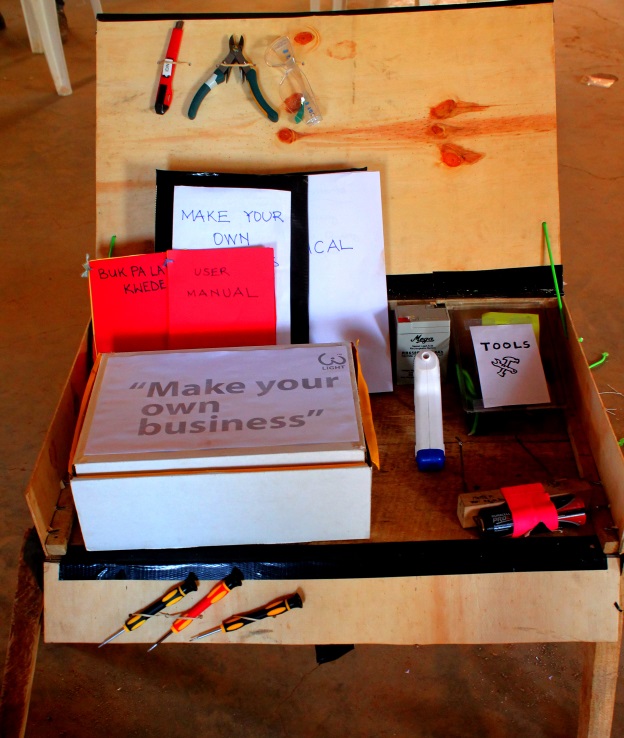 Housing for Make Your Own Business kit
Designing and fabricating this kit did not come without its challenges, but as a team we were able to work through them and accomplish the intended goal. First, the design process from ideation to fabrication was restricted to a week, therefore each day had predefined objectives that had to be met and it was crucial they were achieved. Due to this, some days were spent working extremely late into the night.
Secondly, our value chain underwent several iterations before settling on our final one. The value chain had to be practical and well-defined. We needed to visualize and determine step by step each node of the value chain from sourcing of the various components of the kits to their various end users. This required the team to understand the typical humanitarian relief processes and procedures, basics of supply chain and also life within Ayilo camp.
Lastly, it was initially a challenge to fully define the different kits and their function. Our objective was to make the number of kits as few as possible but to ensure that the contents of the kits were sufficient enough to deliver on their intended purposes. Complexity would only make it harder for the user to understand and deter them from their use.
With this innovation, it is my hope that we can bridge the gap between short term-humanitarian relief and long-term development. The conference and working with all the members of my team was such a fulfilling experience that I will cherish. My most memorable moment was showcasing the kit to the people of Pader. Their enthusiasm for the kit as well as their eagerness to learn more about the product was validation for the team on the incredible work we had put in to make the project a success.
Woohoo!
To all the organizers and the participants: Apwoyo Matek!